Super-durable range in Cotton lisle
Super-Durable in Cotton lisle
Discover the Super-Durable cotton lisle socks for women in mid-calf length, particularly resistant to wear and tear.
It is their particular composition, a mixture of natural materials (cotton lisle) and synthetic materials (polyamide), which gives them this unequalled resistance.
This range is also available in Super-Durable woollen sockes for winter and even in children's socks!
Le fil d'Écosse super-solide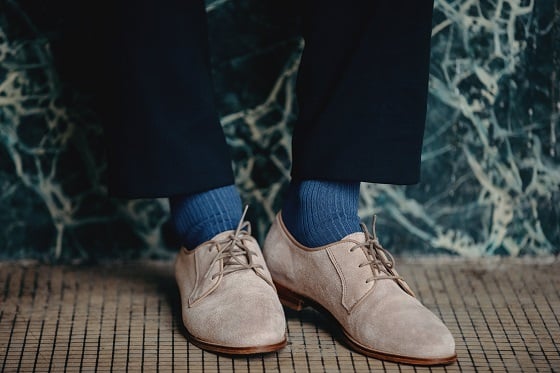 # Pourquoi affirmer que ce sont les chaussettes les plus solides du marché ?
Ces chaussettes sont les plus solides du marché pour deux raisons :
Leur composition : l'association des meilleurs fil d'Écosse et fibres synthétiques (le polyamide & l'élasthanne) donne un mélange de matières inégalé en termes de résistance à l'usure ;
Leur succès au test Martindale : ce test d'usure de renommée mondiale a été appliqué à la gamme Super-solide qui a obtenu les meilleurs résultats de résistance aux frottements parmi un échantillon de 15 paires de marques haut de gamme. Soit une résistance de près de 49 000 tours, résultat qui ne peut pas être converti en nombre de pas mais correspond à un usage très intensif de la matière.
# Pourquoi ajouter des matières synthétiques ?
Les matières synthétiques donnent de la résistance aux chaussettes. Nous avons choisi le polyamide pour sa robustesse - c'est la matière utilisée pour créer les amarres des bateaux - et l'élasthanne car il donne une impression de netteté et cet aspect lisse sans plis à la chaussette.
# Quand porter les Super-solides ?
Les Super-solides en fil d'Écosse se portent toute l'année si vous n'êtes pas frileux ! Légèrement plus épaisses que du 100% fil d'Écosse, elles se glissent sans problème dans tous les types de souliers sans faire de plis. L'ajout des matières synthétiques les rend légèrement plus « chaudes » mais si vous êtes frileux, elles ne seront pas suffisamment épaisses pour les températures hivernales. La variété des modèles et motifs vous permet de trouver les paires idéales à porter dans un environnement professionnel ou pour des occasions moins formelles.