Mid-calf socks in Silk
Silk socks
Discover our silk mid-calf socks (short), a natural material known for its fineness, softness and delicacy, which guarantees your feet comfort in every season.
Silk socks are very elegant and stand out for their soft, silky and comfortable feel.
Silk pairs keep your feet cool in summer and warm in winter thanks to the thermoregulatory properties of this material.
Chaussettes soie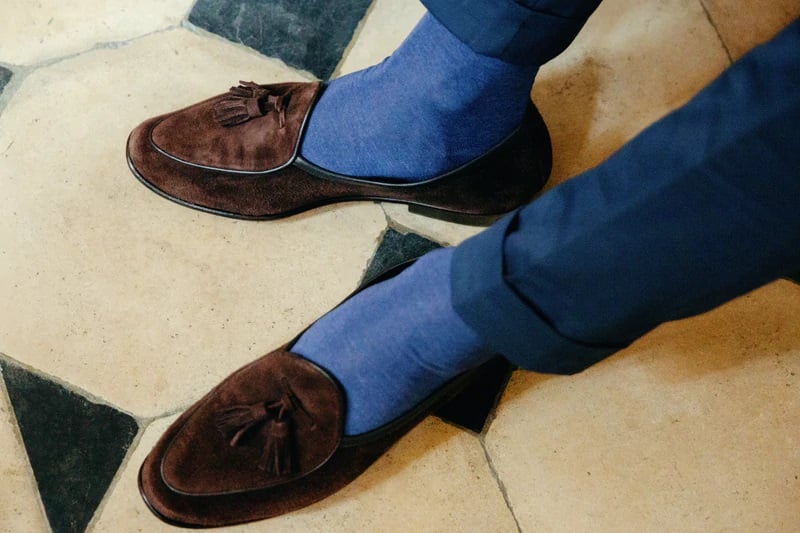 # Des chaussettes en soie pour un confort d'exception
La soie est une matière naturelle issue des cocons de vers à soie (également appelé bombyx du mûrier). Cette matière est célèbre pour ses nombreuses propriétés.
La douceur : Les chaussettes en pure soie naturelle sont réputées pour être particulièrement douces. D'une exceptionnelle finesse et d'une grande légèreté, ces chaussettes de luxe sont si agréables à porter que vous oublierez leur présence en quelques minutes ! Elles apportent un grand confort pour les personnes qui ont les pieds sensibles. Les modèles de chaussettes en soie proposés par la maison Gammarelli sont sans côtes, on parle même de soie lisse.
La régulation thermique : La soie a également des propriétés thermorégulatrices uniques. Ainsi, les amateurs de chaussettes en soie les portent même en été, car elles permettent de garder les pieds au frais et limitent la sudation. En hiver, elles vous maintiendront les pieds au chaud.
L'hygiène : Les chaussettes en soie sont hypoallergéniques. Cette matière est réputée pour prévenir l'apparition des bactéries. Portées, elles empêchent la formation des bactéries sur les pieds, et empêchent ainsi l'apparition de mauvaises odeurs.
La chaleur : Associée à d'autres matières, la soie permet d'obtenir des tissus uniques. Pour les amateurs de matières douces et chaudes, nous proposons des modèles de chaussettes en cachemire & soie (30% soie et 70% cachemire). Ces chaussettes haut de gamme, disponibles en mi-mi-mollet (court - au milieu du mollet), font partie des paires de chaussettes les plus douces, confortables, chaudes et soyeuses qui existent. La variété des couleurs vous permettra de rester élégant en toutes circonstances en profitant d'un confort exceptionnel tout au long des saisons froides.
La robustesse : Bien qu'étant une matière délicate, la soie bénéficie d'une résistance exceptionnelle . En effet, si l'on a deux fils de la même épaisseur, la soie est plus solide que l'acier ! Mazarin propose des modèles avec une part de matières synthétiques pour garantir une bonne durabilité.
# Des chaussettes en soie raffinées
Les chaussettes en soie sont appréciées car elles sont synonymes de raffinement, d'attention portée aux matières et de bon goût. Des chaussettes pour homme et femme qui incarnent l'élégance et le style.
Les mi-bas en soie sont tricotés en 100% soie ou 95% soie (5% de polyamide sont rajoutés dans certains modèles pour plus de résistance à l'usure). Cela les rend lisses et brillantes, ce qui accentue la finesse de la fibre, et garantit une élégance inégalée. Elles peuvent être portées à toutes les occasions, et notamment lorsqu'il faut choisir une belle paire pour un événement ou une belle soirée, là où la soie est reine.
Portées avec un costume, ces chaussettes raffinées apportent une touche d'élégance supplémentaire, et l'association avec un smoking est un mariage parfait. Elles sont d'ailleurs toutes indiquées pour un évènement avec un dress code strict où l'élégance est de mise, comme lors d'un "Black Tie". Elles peuvent aussi être portées avec d'autres styles de tenues.
Ces chaussettes montantes sont fines, elles peuvent donc être portées dans tous les souliers ajustés, ou bien même avec des chaussures un peu plus larges. Vous pouvez les associer ton sur ton avec vos tenues, ou marquer des contrastes.
# La soie, matière d'excellence pour les accessoires
Dans le domaine des accessoires de mode, malgré de nombreuses matières, c'est bien la soie qui prédomine. C'est une matière noble qui permet de produire des pièces discrètes et très élégantes, mais également des pièces fortes dans vos tenues.
La cravate en soie est un classique du vestiaire masculin. Elle est également très présente dans la confection de foulards, de noeuds papillons, ou même de pochettes de costumes.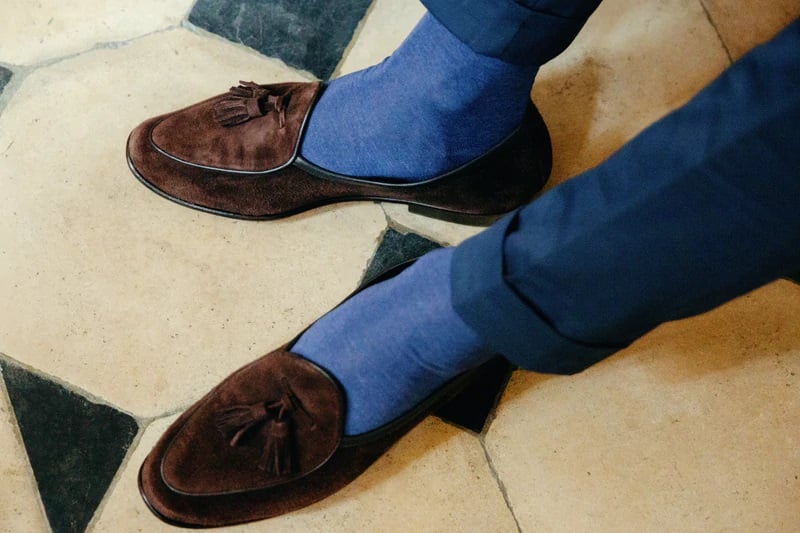 En ce qui concerne les chaussettes, la soie est considérée par beaucoup comme la matière de puriste par excellence ! Ces chaussettes de luxe, qui se distinguent par leur raffinement, sont devenues des incontournables pour tout amateur de chaussettes raffinées.
N.B : Gammarelli propose également une gamme de chaussettes en soie en mi-bas (hauts - sous le genou) qui se décline en deux couleurs emblématiques du tailleur des ecclésiastiques : les mi-bas en soie rouge et les chaussettes en soie noire.
# Comment entretenir les chaussettes en soie ?
La soie est une matière délicate. Certains modèles ont été renforcés pour accroître leur résistance à l'abrasion. Ainsi, pour les chaussettes courtes en soie, ces modèles ont été renforcés avec une part de polyamide. Lors de l'entretien, nous recommandons de les laver à l'envers, à la main. Si vous préférez un lavage en machine, favorisez un cycle d'essorage faible (600 tours/minute au maximum) et une température basse (idéalement à froid, ou jusqu'à 30°c). N'utilisez pas de sèche-linge, et ne les repassez jamais !