Birdseye socks
Birdseye pattern
Mid-calf (short) birdseye socks are socks with a very fine polka dot pattern that is achieved by alternating two different coloured yarns.
The birdseye pattern is perfect if you want something elegant and unique without standing out too much; from afar it looks like one solid colour, but the closer you get the more you can see the gentle contrast between the yarns.
This pattern is available in cotton lisle, Super-Durable and Super-Durable wool, as well as knee-highs).
Le motif caviar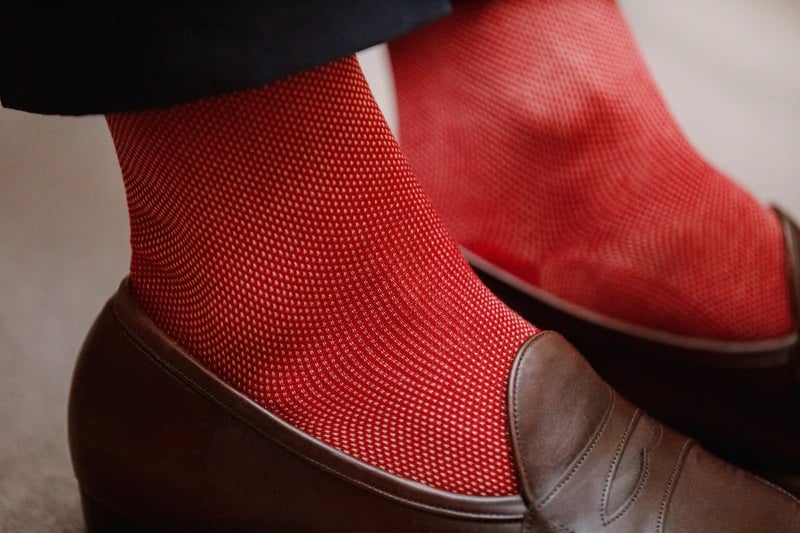 # Le motif caviar
Le motif caviar, aussi appelé œil de perdrix, est réputé pour sa subtilité. C'est un motif à la fois discret et tape-à-l'œil qui donne du caractère à vos tenues. Le caviar est un motif jacquard dont le tricotage entremêle deux fils de couleurs différentes dont les boucles de tricot s'alternent pour créer cet effet trompe l'œil coloré voir même texturé.
Nos coups de cœur : les caviars les plus contrastés pour attirer l'œil sur le détail original (bleu ciel & framboise, carmin & beige, bordeaux & beige) et ceux ton-sur-ton pour une touche lumineuse en toute subtilité (marine & bordeaux, marine & bleu roi).
# Pourquoi le porter ?
Les chaussettes à motif caviar sont parfaites si vous n'osez pas passer le cap des motifs mais souhaitez varier des tenues unies en toute subtilité. Porter des chaussettes caviar c'est savoir se démarquer avec élégance et en toute sobriété.
# La particularité du motif caviar ?
C'est un motif en trompe-l'oeil très subtil qui offre d'innombrables possibilités d'association de couleurs, qui fait particulièrement ressortir les contrastes de près et, de loin, a un rendu fondu qui laisse penser à une couleur unie.