Invisible socks
Invisible socks
Our invisible socks, also known as no-show socks or low cut socks are designed to be invisible without neglecting the comfort of your feet or the protection of your shoes.
Three models are available: for trainers (right under the ankle), for moccasins (socks with a wider opening on the instep) and for ballerinas (the shortes, at the level of the toes).
Invisible socks are available for men and women, in cotton and cotton & linen, sizes 36 to 47.
Chaussette invisible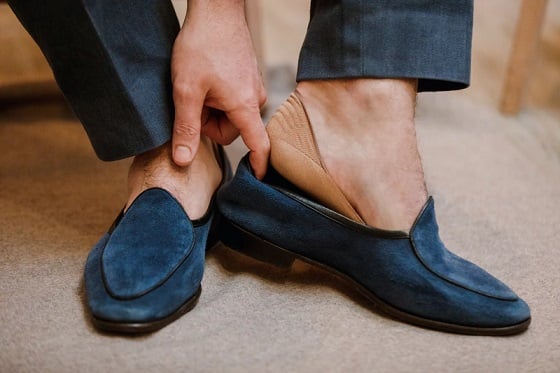 # Protéger vos pieds avec les chaussettes invisibles
Pourquoi porter des chaussettes invisibles ? Parce qu'elles ont l'avantage de protéger vos pieds des frottements et de conserver l'intérieur de vos chaussures tout en restant très discrètes !
Les modèles de chaussettes invisibles Mazarin et Doré Doré seront particulièrement adaptées si :
Vous n'aimez pas laisser apparaître vos chaussettes en dehors de vos chaussures ;
Il est indispensable pour vous de porter des chaussettes dans ses chaussures même en été ;
Vous êtes suffisamment coquet pour apprécier la possibilité de choisir la couleur de vos chaussettes en fonction de vos tenues même si vous êtes les seuls à voir ce détail raffiné ;
Vous êtes tout simplement adepte des chaussettes invisibles !


Chaussettes invisibles, du pratique à l'agréable
Les chaussettes invisibles pour homme et pour femme se distinguent par leur usage bien spécifique et les matières d'exception dont elles sont composées.
Leur usage : que vous soyez amateurs de chaussettes discrètes ou que vous souhaitiez tout simplement porter des chaussettes dans tous vos souliers peu importe la température ? Il vous faut des chaussettes invisibles ! Ces chaussettes discrètes ont plusieurs avantages :
Leur coupe : il existe trois coupes adaptées aux différents types de chaussures avec lesquelles les chaussettes invisibles peuvent être portées. Tous les modèles de socquettes que nous proposons sont absolument invisibles. La discrétion absolue pour toutes vos tenues estivales !
Leur renfort : les chaussettes invisibles ont huit fines bandes antiglisse au niveau du talon, en silicone, une matière synthétique suffisamment adhérente à la peau pour à la fois maintenir parfaitement la chaussette invisible en place lors de la marche sans pour autant coller à la peau !
Leurs finitions : elles sont remaillées maille à maille afin d'assurer un confort tout au long de la journée. Le remaillage est une technique qui permet de finaliser le tricotage de la chaussette fine sans avoir de couture centrale au niveau de la pointe pour éviter toute gêne lors de la marche !
Leur composition : selon les modèles, les chaussettes invisibles sont en coton (socquettes pour baskets) ou mélangées en coton & lin (socquettes invisibles pour mocassins) et ont des renforts bien spécifiques pour durer et tenir :
Le coton : Mazarin a sélectionné le meilleur coton en provenance d'Egypte pour ses chaussettes invisibles. Ce coton est réputé pour son extrême douceur qui laisse les pieds respirer et leur assure un réel confort.
Le lin : cette matière est utilisée principalement pour les modèles de socquettes pour mocassins car elle est très légère et laisse les pieds respirer tout en les gardant au frais et au sec, ce qui est important notamment en été où l'on porte des chaussures plus échancrées et où nos pieds ont tendance à transpirer davantage.
Le polyamide : cette matière synthétique est réputée pour sa solidité qui, mélangée aux fibres naturelles des chaussettes, rend les socquettes très résistantes face à l'usure. Pour information, le polyamide est la matière originellement utilisée pour la fabrication des amarres de bateaux, capable de supporter le poids de ces navires !
L'élasthanne : la souplesse et la tenue impeccable des chaussettes invisibles sur le pied proviennent de la présence d'élasthanne dans leur composition.
Soyez coquets même en portant des chaussettes invisibles
Ce n'est pas parce qu'elles sont invisibles que ces chaussettes ne doivent pas être jolies !
Essayez la large gamme de couleurs de socquettes, de quoi vous autoriser ce plaisir raffiné d'assortir la couleur de vos petites chaussettes à celles de vos tenues rien que pour vos yeux !
Vous pouvez aussi choisir d'associer la couleur intérieure et/ou extérieure de vos chaussures à celles de vos baskets. Comme cela, si par mégarde un bout de chaussettes dépassait, vous n'auriez pas à craindre la faute de goût. Et cela rassurera tout le monde sur le fait que vous portez bien des chaussettes !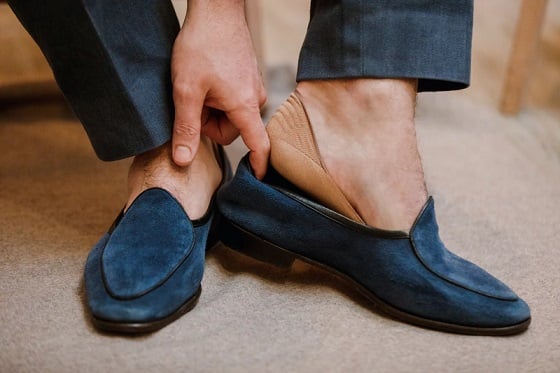 # Nos modèles de chaussettes invisibles
Nous proposons trois modèles de chaussettes invisibles, tous dédiés à un usage bien spécifique :
Chaussettes invisibles pour baskets
Arrivant juste au-dessous de la malléole, ce modèle sportif est idéal à porter dans des baskets ou sneakers pour protéger vos pieds des frottements et éviter cette sensation désagréable du contact de la languette sur votre cou-de-pied.
Chaussettes invisibles pour mocassins
Ces socquettes fines sont plus échancrées et arrivent au milieu du cou-de-pied, forme parfaite pour être portée avec des mocassins, des derbies ou autres souliers ouverts.
Chaussettes invisibles femme pour ballerines
De loin les plus petites chaussettes qui existent en termes de matière, ces socquettes sont adaptées pour vous, mesdames, si vous portez des ballerines car elles arrivent juste au niveau du début des doigts de pieds, pour protéger la partie du pied dans la chaussure sans pour autant laisser dépasser vos chaussettes.
# Entretenir ses chaussettes invisibles
Lavage des socquettes : Les chaussettes invisibles, composées en coton ou en lin, sont faciles à entretenir. Vous pouvez les laver en machine sans aucun problème, à un régime coton classique à 30 ou 40° avec un essorage à 1 200 tours/minute.
Séchage des socquettes : La seule réelle précaution à apporter réside dans le séchage des chaussettes invisibles. Il est préférable de les laisser sécher à plat à l'air libre afin de préserver leur forme ainsi que les bandes antiglisse à l'arrière de la petite chaussette qui risquerait de s'abîmer au lavage.