Invisible socks for trainers
Invisible socks for sneakers
Fans of sneakers, especially for you we offer invisible socks en extra-soft cotton (sizes 36 to 47) ideal for wearing in spring and summer.
These socks reach just below the ankle, an ideal height to not stick out from your shoes while still protection both your feet and sneakers!

Chaussettes basket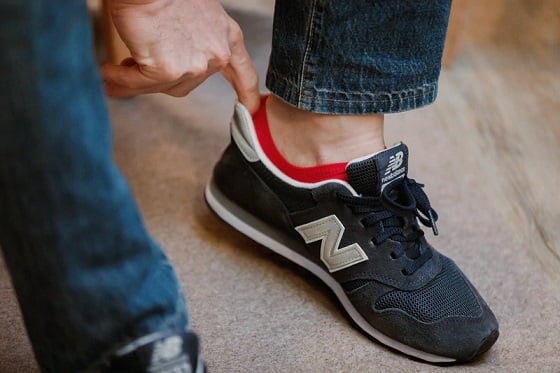 # Les chaussettes basket
Vous aimez porter des baskets mais vous n'aimez pas laisser apparaître vos chaussettes ? Les chaussettes basket sont la solution !
Ces chaussettes basket de la marque française Mazarin, aussi connues sous le nom de chaussettes invisibles ou de socquettes, sont faites pour être portées dans des baskets ou sneakers aussi bien avec des tenues quotidiennes que sportives. Leur atout ? Ces chaussettes de sport sont complètement invisibles ce qui évite de laisser apparaître un bout de chaussettes et sont adaptées pour la saison estivale car elles évitent de tenir chaud.
N.B : si vous êtes amoureux des baskets au point d'emporter même en hiver et de risquer d'attraper froid, soyez soulagés, Mazarin a, encore une fois, la solution. Les chaussettes invisibles basket existent aussi en modèle d'hiver en laine pour garder vos pieds bien au chaud au point d'oublier vos chevilles découvertes.
#Chaussettes basket, chaussettes invisibles de qualité
Ce n'est pas parce que les chaussettes basket ne se voient pas qu'il faut négliger leur qualité, bien au contraire !
Les socquettes pour sneakers de Mazarin sont parmis les plus douces et les plus raffinées. Nous vous livrons tous leurs secrets :


La matière des chaussettes invisibles
Toutes les chaussettes basket sont tricotées en Italie, une région choisie pour ses ateliers de tricotage du textile et son savoir-faire d'exception en bonneterie.
Les modèles de chaussettes invisibles pour baskets sont composées en :
Coton (78%) : ces modèles pour baskets sont en coton égyptien d'une qualité supérieure, réputé pour la finesse de ses fibres et surtout son extrême douceur. Ces chaussettes basket sont donc particulièrement confortables à porter et seront douces avec tous les pieds, même les plus sensibles.
Polyamide (20%) : cette matière synthétique est réputée pour sa solidité qui, mélangée à des fibres naturelles comme le coton, renforce considérablement les matières et, ici, les socquettes Mazarin.
Élasthanne (2%) : cette matière est ajoutée au reste de la composition pour donner de la souplesse et assurer une tenue des chaussettes impeccables sur le pied, même avec les frottements chaussettes/baskets en marchant au quotidien.
Les finitions des chaussettes basket
En plus d'être d'une composition de qualité, ces chaussettes Mazarin ont des finitions d'exception qui renforcent leur confort :
Bandes anti-glisse : afin d'assurer le maintien impeccable des chaussettes basket pendant la marche, 8 petites bandes anti-glisse ont été ajoutées à l'arrière au niveau du talon. Leur matière légèrement adhésive accroche parfaitement la peau pour tenir sans coller.
Remaillage : chaque chaussettes est remaillée maille à maille avec finitions sur le dessus des doigts de pieds afin d'assurer le confort de l'absence de coutures au niveau de la pointe.
Fashion fact : retrouvez la signature verte Mazarin adaptée à chacun des modèles pour sneakers au niveau de la pointe des pieds où il est tricoté de manière très raffinée, la marque des chaussettes !
# Portez des chaussettes basket, un plaisir personnel
Les chaussettes basket ont la particularité d'être invisibles. Vous nous demanderez donc : pourquoi en porter si personne ne les voit ? Certes, au delà d'être un élément choisi pour ajouter une touche de fantaisie à vos tenues, les chaussettes basket apportent avant tout du confort aux pieds. C'est aussi un vêtement qui participe à l'hygiène des pieds dans les baskets.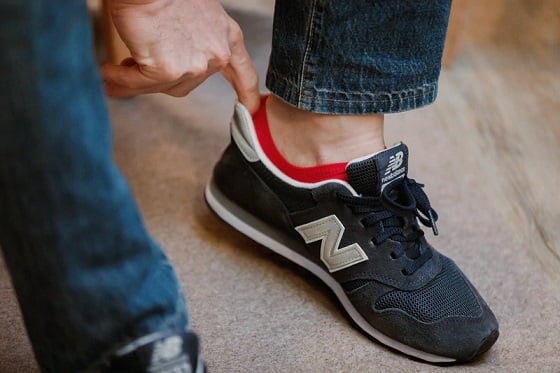 Chaussettes basket ou le raffinement à son apogée
Mazarin apporte à ses modèles de chaussettes basket autant de soin dans le design et les couleurs que pour ses gammes de chaussettes mi-mollet et mi-bas plus classiques. Ainsi, même si ces chaussettes de baskets pour homme sont invisibles, elles vous laissent la possibilité d'ajouter une touche de couleur de votre choix, assortie ou non à vos tenues. Seules les personnes les plus intimes pourront remarquer la délicatesse de votre goût vestimentaire au moment où vous enlèverez vos chaussures pour laisser apparaître ces petites chaussettes portées comme un détail raffiné de votre tenue.
Les couleurs des chaussettes basket
Des plus sobres au plus vives, les chaussettes basket peuvent s'associer à vos tenues ou juste à vos humeurs à l'infinie et sans que personne ne les remarque !
N.B : il peut arriver qu'un tout petit millimètre de la socquettes dépasse de vos baskets. Mais rassurez-vous, les personnes autour de vous verront de leurs propres yeux que vous avez du goût pour assortir vos chaussettes à vos tenues, même lorsqu'elles ne sont pas visibles. Et au mieux, cela rassurera tout le monde sur le fait que vous portez bien des chaussettes dans vos baskets !
# Entretenir ses paire de chaussettes basket
Les chaussettes basket sont des chaussettes en coton de qualité mais avec la particularité d'avoir des bandes en synthétique au niveau du talon. Ces deux éléments sont donc à prendre en compte lors du lavage et du séchage des chaussettes basket :
Lavage : le coton égyptien utilisé pour ces chaussettes est extra-doux, nous recommandons donc un lavage à 30° et un essorage à 1 200 tours afin de préserver son toucher duveteux et la qualité des fibres de coton.
Séchage : afin de préserver la douceur et la forme du coton ainsi que le côté légèrement adhésif des bandes antiglisse, nous vous conseillons de le faire sécher à l'air libre et à plat. Le sèche-linge est donc déconseillé.
N.B : pour les chaussettes basket en laine, privilégiez un lavage en régime laine ou délicat à 30° et essorage 600 tours/minute maximum pour conserver la forme des fibres de laine, plus sensibles à la température de l'eau et à la force d'essorage. Et pour le séchage, il doit se faire au naturel et non au sèche-linge.
Et si vous aimez porter des chaussettes invisbles avec toutes vos chaussures, ces modèles existent aussi pour les mocassins et en chaussettes basket femme et invisibles mocassins pour femme !