Silk
Silk Socks
Our range of silk socks for women.
Silk is prized for its shiny appearance and thermoregulatory properties: in this vein, silk socks guarantee you comfort all year-round - they're warm in winter and cool in summer!
Silk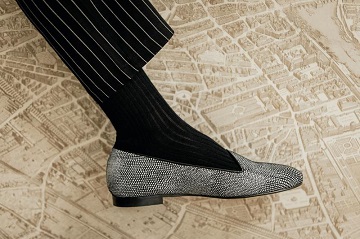 # What's the appeal of silk?
Silk socks are wonderfully soft and light. Moreover, its thermoregulatory properties make for year-round comfort: a pair of silk socks will keep you cool in summer and warm up your feet in winter.
# The silk and cashmere blend.
Cashmere, a premium material is prized for its warmth and softness. When added to cashmere, silk brings a lustre and vibrancy, and allows for an array of bright and intense colours. Socks made from a cashmere and silk blend are particularly soft and light as well as unbeatably sleek and warm.
# How to look after silk socks?
Such an excellent material requires a bit of special treatment. Wash on a wool programme (cold wash with very little spinning), or by hand to preserve its soft feel. The same applies to socks made from a blend of silk and cashmere.