Silk socks for women
Silk socks
Here are all our women's silk socks, knee-high or mid-calf, thin and comfortable for all seasons.
Silk is known for its smooth feel and its thermoregulatory properties: silk socks keep you warm in winter and cool in summer!
La soie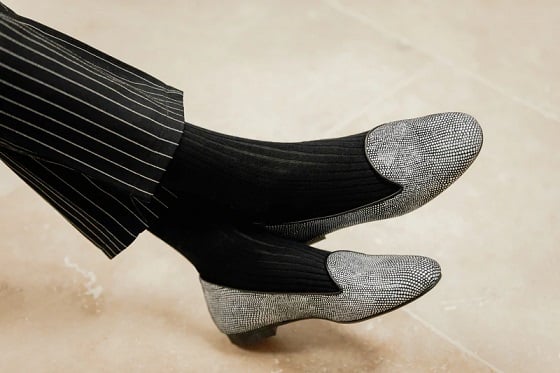 # Quel est l'intérêt de la soie ?
La soie apporte douceur et légèreté aux chaussettes. Ses propriétés thermorégulatrices garantissent un confort toute l'année : les chaussettes en soie gardent la fraîcheur en été et maintiennent les pieds au chaud en hiver.
# Le mélange cachemire & soie
Le cachemire, matière d'excellence, est apprécié pour sa chaleur et son toucher soyeux. La soie ajoute du filant et de la brillance et permet aussi d'obtenir des couleurs intenses et lumineuses. Les chaussettes en cachemire et soie sont particulièrement douces et légères – inégalée en termes de finesse et chaleur !
# Comment entretenir ses chaussettes en soie ?
Cette matière d'excellence nécessite un entretien particulier : à laver en régime laine (à froid et à très faible essorage) ou à la main pour conserver son toucher duveteux. De même pour les chaussettes en cachemire et soie.