Socks for kids
Children's socks
Discover the Mazarin range of children's socks, socks for kids who love adventures!
Cotton or wool socks, knee-high or mid-calf, dress your child in comfortable, sturdy socks adapted to their needs.
Original, trendy and colourful children's socks for boys and girls, available from size 23 to 40!
Chaussettes enfant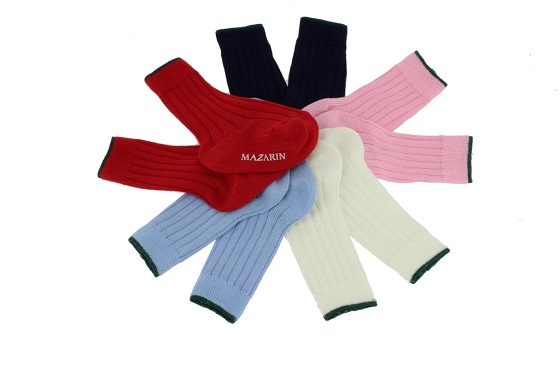 # Les chaussettes enfants Mazarin
Faites goûter à vos enfants le luxe des chaussettes confortables et élégantes dès leur plus jeune âge avec la gamme de chaussettes Dauphin Dauphine !
Pourquoi créer une gamme spéciale chaussettes pour enfant ? Parce que les enfants sont aventuriers, il leur faut des chaussettes tout terrain ! Les chaussettes Dauphin Dauphine accompagneront vos enfants pas à pas pour réaliser leurs activités les plus insolites.
Les chaussettes enfant sont pour petits et grands : les pointures sont disponibles du 27 au 40, de satisfaire les plus petits et les plus grands enfants ! Des lots de chaussettes pour un look parents/enfants assortis !
# Bien choisir ses chaussettes enfants
Afin que vos enfants soient bien dans leur baskets en toute occasion, deux critères sont à prendre en compte pour trouver la paire de chaussettes enfant idéale.


La hauteur des chaussettes enfant
La gamme Dauphin Dauphine par Mazarin propose des chaussettes aux design adaptées aux enfants. Les modèles existent en deux hauteurs :
Chaussettes mi-bas : se sont les chaussettes pour enfant les plus hautes, qui arrivent juste sous le genou. Elles sont particulièrement adaptées aux plus fougueux des enfants qui ont l'habitude de bouger et qui ont donc besoin de chaussettes au maintien impeccable mais aussi aux plus frileux !
Chaussettes mi-mollets : ces chaussettes sont plus courtes, idéales pour les enfants qui aiment la légèreté et les vêtements simples à enfiler ! Les chaussettes mi-mollet sont aussi très pratiques si vous avez l'habitude d'habiller vos enfants avec des tenues près du corps, elles évitent les frottements des matières de pantalon et chaussettes.


Les matières des chaussettes enfant
Afin que vos enfants soient bien dans leurs baskets en toute saison, les chaussettes enfant existent :
Chaussette en coton : elles sont les plus légères, parfaites pour les demi-saisons. Le coton egyptien apporte la souplesse et la finesse dont vos enfants ont besoin pour s'élancer vers de nouvelles aventures. Celles en coton sont parfaites à porter au quotidien ou pour des loisirs en intérieur par exemple.
Chaussettes en laine : elles sont idéales pour les enfants frileux et les jours d'hiver froids. La laine est isolante donc chaude et très douce, de quoi garder les pieds de vos enfants bien au chaud pendant l'hiver.


Des chaussettes enfant pour tous les terrains de jeu
Chaque modèle de chaussettes allie le meilleur des matières naturelles (coton ou laine) et des matières synthétiques : chaque modèle enfant est renforcé en polyamide et en élasthanne.
Le polyamide : cette matière, utilisée pour les amarres de bateau, est très solide. Dans les chaussettes enfant, elle les rend particulièrement résistants aux frottements et à l'usure. C'est un atout indéniable quand on sait à quel point les enfants aiment marcher en chaussettes à même le sol !
L'élasthanne : Vous aussi vous gardez un mauvais souvenir des chaussettes qui glissent dans la cour de récréation ? N'infligez pas cela à vos enfants avec les chaussettes Dauphin Dauphine ! Elles ont une quantité d'élasthanne idéale pour garantir aux chaussettes une souplesse et un maintien parfait sur la jambe en toutes circonstances.
Leur plus ? Les modèles enfant sont renforcés à la pointe et au talon ce qui leur garantit une semelle particulièrement robuste et prête à encaisser tous les chocs !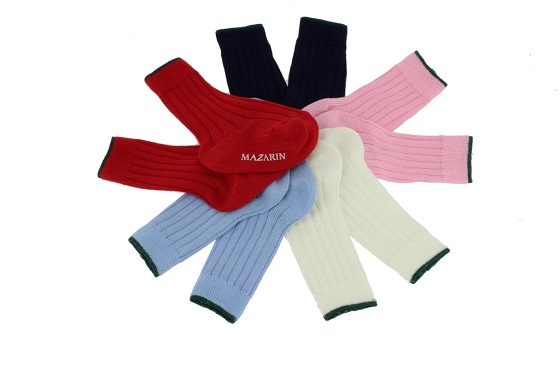 # Les chaussettes enfant à motifs
Dauphin Dauphine, les chaussettes enfant à l'imagination débordante !
Parce que chaque enfant à sa personnalité, nous proposons des modèles pour toutes les humeurs :
Les chaussettes unies : les plus classiques mais indispensables d'un vestiaire enfant, elles iront avec toutes leurs tenues d'école ou de loisir.
Les chaussettes à rayures : le style vintage de ces modèles en séduiront plus d'un ! L'association des couleurs leur donne un côté rétro / vintage très tendance et la touche de fantaisie suffisante pour apporter de l'originalité aux tenues de vos enfants sans faute de goût.
Les chaussettes fantaisie : quoi de mieux qu'une touche d'humour au bout des pieds pour bien leur faire commencer la journée ? Avec ces chaussettes à motifs, vos enfants prendront un malin plaisir à sortir de leur lit le matin pour enfiler leurs nouvelles chaussettes porte-bonheur. Succès garanti !
Nos paires de chaussettes pour enfant se marient à merveille aux vêtement garçon et aux tenues des filles. Des chaussettes élégantes, confortables et faciles d'entretien !
# L'entretien facile des chaussettes enfants
Il faut apporter aux chaussettes enfant le même soin qu'aux chaussettes adultes !
Le lavage des chaussettes est simple et se fait en fonction des matières :
Les chaussettes enfant en coton : faciles d'entretien, elles se lavent en machine (30 ou 40° et un essorage jusqu'à 1 300 tours/minute). Privilégiez un séchage naturel à plat qui ne déforme pas les paires de chaussettes, le sèche-linge est tout de même possible.
Les chaussettes enfant en laine : plus délicate, la laine doit se laver en régime laine ou délicat (30°et essorage très faible à 600 tours/minute maximum) pour éviter le feutrage de la matière. Séchez-les à l'air libre et à plat pour conserver l'épaisseur des fibres des chaussettes et leur forme. Des chaussettes tendances et résistantes qui facilitent la vie des enfants et des parents !