Gift sets
Gift sets
Are you looking for an original gift for yourself, your family or your friends? Our men's sock gift sets are made for you!
The wide variety of patterns, colours and materials can satisfy any wish, in any season and for any occasion like Father's Day!
Discover all our ranges through each gift set for men or women and if you hesitate, opt for our gift card!
Coffret chaussettes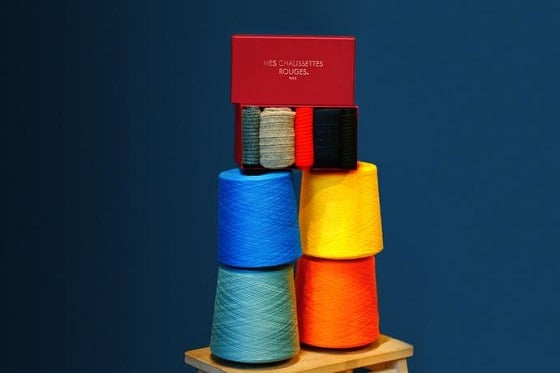 # Pourquoi acheter un coffret chaussettes ?
Mes Chaussettes Rouges propose une multitude de coffret chaussettes composé de 3 à 7 paires de chaussettes en hauteur mi-bas (hautes) ou mi-mollet (courtes), pour homme et pour femme. Choisir un coffret chaussettes c'est saisir l'occasion de tester l'intégralité de nos gammes de chaussettes à savoir :
Toutes nos matières : vous retrouverez dans chaque coffret chaussettes des mélanges de matières (100% fil d'Écosse, laine, cachemire, super-solides, etc.) ;
Les différentes épaisseurs : des plus fines en soie, lin ou fil d'Écosse aux plus épaisses en cachemire en passant par les super-solides intermédiaires, il y en a pour chaque occasion ;
Les motifs : en plus des couleurs, des rayures au pied-de-poule en passant par le motif caviar, chaque paire à motif a été soigneusement sélectionnée pour vous permettre de vous démarquer grâce à un détail fantaisie délicat et élégant !
# Notre offre de coffret chaussettes homme
Chaque coffret chaussettes vous permettra d'ajouter une touche d'élégance et de raffinement supplémentaire à chacune de vos tenues professionnelles et décontractées. Découvrez chaque coffret composé de 3 à 7 paires de chaussettes (semainier).
Coffret de chaussettes, coffret cadeau chaussettes ? Oui ! Vous pouvez aussi sélectionner un coffret de chaussettes à offrir en cadeau pour faire découvrir nos gammes à un être cher ou prêcher déjà un converti.
Coffret de chaussettes pour homme
Nous avons une offre de coffret chaussettes homme afin que chacun d'entre vous ait des chaussettes adaptées à toutes ses tenues, qu'elles soient formelles ou plus décontractées comme avec le coffret business ou encore le coffret cadeau chaussettes colorées de 7 nuances de rouge, bleu ou noir.
Nous proposons également des coffrets intégralement composés de nos gammes spécialisés pour les mordues de ces chaussettes :
Le coffret semainier super-solides mi-bas ou mi-mollet : il comporte 7 paires aux couleurs unies et motif, en fil d'écosse renforcé et laine super-solide ;
Le coffret chaussettes homme non-comprimantes : 7 paires aux couleurs différentes pour vivre chaque jour de la semaine avec cette sensation de légèreté : l'élastique des chaussettes est réparti dans toute la longueur afin d'éviter la sensation de compression à l'extrémité haute ;
Le coffret contentions : elles sont de classe 2, fabriquées en Italie et contrôlées en Suisse, adaptées à toutes les personnes qui restent debout de manière prolongée, voyagent beaucoup ou encore qui présentent des varices.
Les coffrets chaussettes homme emblématiques
Parmi tous nos coffrets, certains se démarquent par leur histoire.
Le coffret Napoléon : produit en édition limitée, ce coffret propose 6 paires de chaussettes répliquées des bas originaux portés par Napoléon que la maison a acquis lors d'une vente aux enchères. Chaque couleur des chaussettes de ce coffret fait référence à une événement de la vie de l'empereur.
Le coffret légende mi-bas ou mi-mollet : il est composé des trois paires les plus emblématiques de notre boutique : les chaussettes rouges Gammarelli connu comme le tailleur des Papes, le vert académie qui rappelle la couleur des branches d'oliviers brodées sur les habits des Académiciens et une paire de super-solides en fil d'Écosse bleu marine, la gamme de Mazarin la plus résistante au monde.
Le coffret super-solide mi-bas ou mi-mollet : vous y retrouverez les plus beaux modèles des chaussettes les plus résistantes au mode qui allient le meilleur des matières naturelles (fil d'Écosse ou laine) et synthétiques (polyamide et élasthanne).


Coffret chaussettes pour femme
Nous proposons une offre de coffret chaussettes femme car les pieds des femmes sont généralement plus fins que ceux des hommes. Les modèles sont donc plus ajustés et adaptés aux morphologies féminines, disponibles du 36 au 41.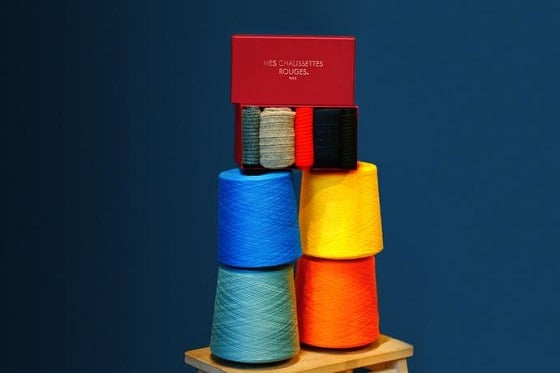 Chaque coffret offre des assortiments de chaussettes habillées, fantaisie, plus ou moins chaudes pour vous accompagner tout au long des saisons. Et aussi parce que nous pensons qu'il est toujours agréable d'avoir une touche féminine à ses pieds, comme avec le liseré doré des chaussettes Daphné !
N.B : Mesdames, si vous chaussez du 39 ou plus, élargissez votre choix en sélectionnant votre coffret homme préféré.
Coups de coeur coffret chaussettes pour femme
Voici nos coups de coeur de coffret chaussettes pour femme :
Le coffret super-solide : testez les chaussettes les plus résistantes à l'usure et aux frottements composées des meilleures matières naturelles (fil d'Écosse) et synthétique (polyamide). À porter au quotidien sans modération !
Le coffret paillettes : ce coffret fantaisie propose 7 nuances de chaussettes pailletées, des plus sobres bleu marine, noires ou encore vertes et plus originales comme les rouges et doré. Vous pouvez aussi bien les dissimuler derrière des tenues habillées que les assumer fièrement avec des baskets.
Le coffret chaussettes femme iconique Rome : le motif de chaque paire fait référence à une événement marquant de l'histoire de la capitale italienne (le colisée, les oies du Capitole, les pin parasol, la mosaïque de la villa Borghèse, les lauriers de César).
Coffret chaussettes invisibles pour homme et femme
Parce que nos chaussettes méritent aussi d'être portées en été, Mazarin propose des coffrets de chaussettes invisibles, aussi appelées socquettes, pour homme et femme disponibles du 36 au 47. Pour baskets et un pour mocassin (modèles plus échancrés), chaque modèle de chaussettes invisibles est renforcé au niveau du talon avec des bandes anti-glisse qui assurent un maintien parfait des chaussettes.