Herringbone socks
Herringbone socks
Our range of mid-calf length herringbone socks.
Herringbone's zig-zag effect makes the colour-scheme of the socks sparkle even more, resulting in a fine, elegant look.
Herringbone socks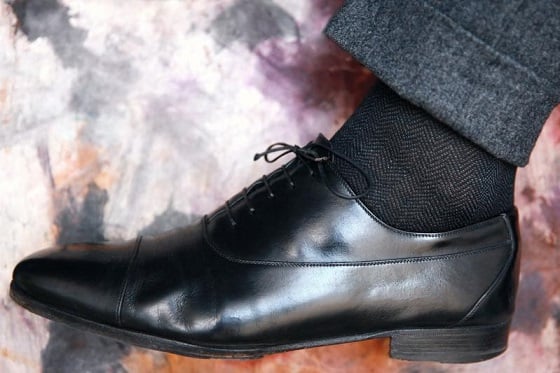 # Where does the pattern come from?
First discovered on ancient Greek pottery dating before the lifetime of Christ, herringbone became fashionable with the Art Deco movement in the 1920's and then became a trendy pattern in the 1960's. In the world of socks, Bresciani is well-known for having the most beautiful range of colours for their herringbone socks!
# Why choose herringbone?
Herringbone's zig zag effect compliments the colour combinations of the socks, making them sparkle even more. Knitted with cotton lisle, herringbone makes for a very fine and refined pattern. In this way the socks can look like they are in plain colours from a distance. This makes herringbone one of the easiest patterns to wear: herringbone socks will add a little touch of creativity and brightness to your plain coloured outfits without overdoing it.