Herringbone socks
Herringbone socks
Browse all our mid-calf (short) herringbone socks in cotton lisle and wool, a fine and discreet pattern that adds creativity to your outfit without going over the top.
The zig zag effect of the herringbone gives even more brightness to the combination of colours, creating a refined and elegant look.
Les chevrons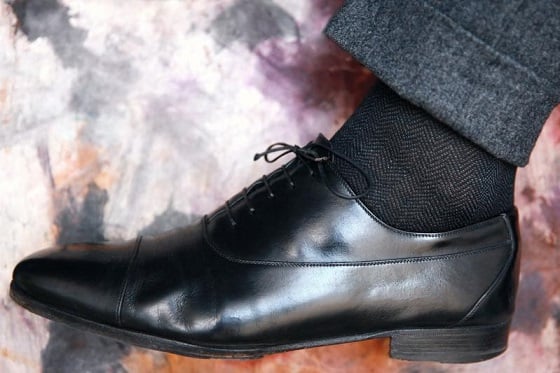 # D'où vient ce motif ?
Découvert en premier sur d'anciennes poteries grecques d'avant JC, le chevron devient à la mode avec le mouvement Art Déco dans les 20's et s'impose comme motif tendance dès les années 60. Dans l'univers des chaussettes, c'est Bresciani qui détient sans doute la palme des plus beaux assortiments de couleurs pour les chaussettes à chevrons !
# Pourquoi le choisir ?
L'effet zig zag du chevron donne encore plus d'éclat aux mélanges de couleurs sur les chaussettes. Tricoté sur du fil d'Écosse, le chevron permet d'obtenir un motif très fin et raffiné, on dit aussi que c'est un faux-uni ! Ce qui en fait l'un des motifs de chaussettes les plus facile à porter : il donne une délicate touche de fantaisie et de l'éclat à vos tenues unies sans en faire trop. On dit aussi que c'est un subtile faux-uni car de loin, vos chaussettes semblent de couleur unie.