Ski socks
Ski socks
Discover all our ski socks, made of the best natural and synthetic materials.
These Mazarin models are top-of-the-range ski socks that combine comfort, robustness and design.
They have been designed with the necessary reinforcements to meet the technical needs of this mountain sport.
The ski socks are available in sizes 36 to 46 (depending on the model).
Chaussettes de ski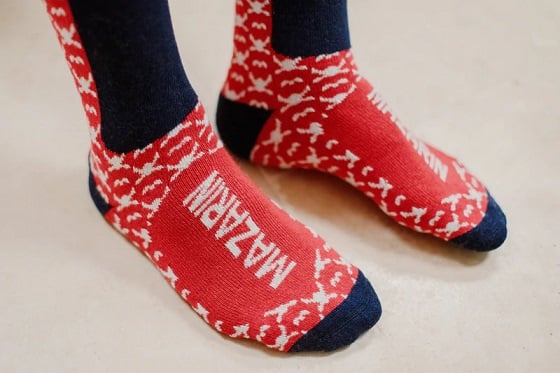 # Chaussettes de ski
Les chaussettes de ski font partie de l'équipement indispensable des skieurs et des alpinistes. Pour garder les pieds bien au chaud à la montagne et pratiquer un sport d'hiver sans se soucier du froid et de la neige, privilégiez une paire de chaussettes ski de qualité. Mazarin propose une gamme de chaussettes de ski pour homme et femme dont chaque modèle a été pensé pour répondre aux spécificités techniques de ce sport d'hiver. Matières, finitions, design, voici toutes les caractéristiques des chaussettes de ski Mazarin.
Les matières des chaussettes de ski
Les chaussettes de ski Mazarin mélangent le meilleur des matières synthétiques et naturelles pour apporter la technicité et le confort parfait pour la pratique de ce sport.
Les matières synthétiques :
Polyamide : originellement utilisé pour les amarres de bateau, cette matière est réputée pour sa solidité, ce qui rend les chaussettes de ski plus résistantes à l'usure et aux frottements.
Viscose : aussi appelée soie artificielle pour sa ressemblance à cette matière naturelle, la viscose est une matière végétale utilisée pour sa douceur et ses capacités absorbantes. Dans des chaussettes de ski, elle apporte douceur et légèreté et permet de garder les pieds bien au sec pendant l'effort. La viscose évite aussi le feutrage des matières et donc simplifie l'entretien de vos chaussettes de ski !
Élasthanne : cette matière élastique permet de garantir le maintien parfait des chaussettes sur la jambe. Elle a l'avantage d'être souple, légère et résistante d'où son usage spécifique dans les vêtements de sport comme pour ces chaussettes de ski.
Les matières naturelles : Mazarin choisit le cachemire pour apporter douceur et chaleur aux chaussettes de ski. L'extrême finesse de ses fibres le rend extrêmement doux et leur aspect permet de retenir la chaleur corporelle pour isoler les pieds. C'est aussi une matière respirante qui assure la circulation de l'air et évite que la chaleur ne stagne (absence de mauvaises odeurs).
N.B : les matières choisies pour les modèles Mazarin sont souvent réputées pour leurs propriétés thermorégulantes. Les chaussettes de ski mazarin vous garantissent donc de garder vos pieds au chaud pendant l'effort sans les faire transpirer davantage tout en isolant vos pieds une fois l'effort terminé pour éviter que vous n'attrapiez pas froid.
Chaussettes de ski techniques renforcées pour la pratique
Les modèles de chaussettes de ski Mazarin se distinguent tous par :
Leur robustesse : chaque modèle est renforcé à la pointe et au talon, en plus de l'ajout des matières synthétiques résistantes à l'usure comme le polyamide, pour assurer une durée de vie supplémentaire aux chaussettes face à l'usure naturelle, aux frottements et aux à-coups.
Leur confort : la semelle des chaussettes est tricotée en bouclette, une technique qui ajoute une épaisseur de matière supplémentaire et qui permet à la fois plus de confort et de solidité, deux critères indéniables pour cette pratique sportive. Un ajout de matière supplémentaire a été aussi prévu sur toute la longueur des tibias pour protéger vos jambes de la pression exercée par les différents mouvements du corps en skiant.
Leur design : les motifs de chacune des paires de chaussettes de ski font référence à l'atmosphère du sport d'hiver souvent associé à Noël, aux motifs vintage des tenues hivernales, ou alors trouvent leur inspiration dans les stations de ski.
Des chaussettes de ski conçues pour pratiquer le ski alpin, les raquettes et les randonnées en montagne en toute sécurité et dans un confort absolu !
Les finitions des chaussettes de ski
Tous les modèles de chaussette ski Mazarin homme et femme sont tricotés en Italie dans la région spécialiste de la bonneterie qui garantissent des modèles d'exception.
Elles ont la hauteur des mi-bas (sous le genou) pour vous assurer une tenue impeccable pendant toute la durée de l'effort sans risquer de glisser.
Le remaillage des chaussettes ski est effectué maille à maille c'est-à-dire que la couture des chaussettes se trouve non pas au niveau de la pointe des pieds mais au-dessus des orteilles pour assurer le confort maximal au porter. Vous pourrez dévaler les pistes de ski, sentir la neige glisser sous vos skis et faire le pleins de sensations !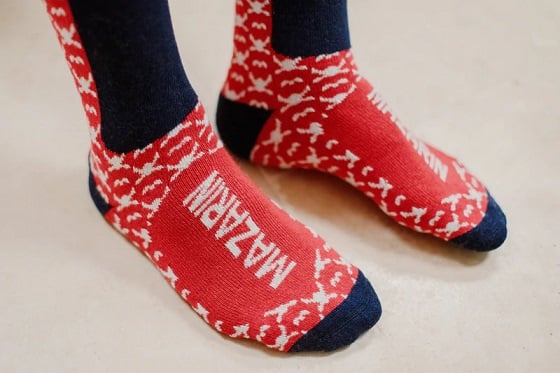 # Choisir la paire de chaussettes de ski adaptée à son rythme sportif
Mazarin propose trois modèles de chaussettes de ski adaptés au profil de chacun des skieurs.
Chaussettes de ski technique : sportif de compétition dans la vraie vie ou dans l'âme, ce modèle est fait pour vous. Ces chaussettes sont en 100% polyamide, une matière très résistante aux frottements et à-coups. Elle a aussi l'avantage de sécher très vite, idéal en cas de forte transpiration, notamment liée au stress de la compétition. L'épaisseur des chaussettes est assez fine ce qui permet une plus grande souplesse du pied dans les chaussures et facilite la mobilité du pied et donc la précision des mouvements de ski. Leur plus ? Leurs motifs en courbes rappellent le symbole des pistes de ski sur les cartes des stations et plus précisément, la courbe rouge qui fait référence à la couleur des piquets de slaloms. Vous ne pouvez pas être mieux équipé pour décrocher la première place du podium !
Chaussettes de ski printemps : Légèrement plus épaisses, les chaussettes de printemps mélangent polyamide et viscose. La viscose, fibre végétale, est réputée pour sa douceur et sa légèreté. Avec ce modèle résistant et renforcé à la pointe, au talon et sur les tibias, vous n'aurez ni trop chaud ni trop froid ! Le motif caviar XXL leur donne ce côté vintage des pulls d'hiver aux couleurs sobres. Pour ceux qui aiment pousser la touche fashion jusqu'au bout des skis, elles seront parfaites pour être portées avec toutes les couleurs de vos tenues !
Chaussettes de ski confort : Ce dernier modèle se distingue par la présence de cachemire dans sa composition. Le cachemire renforce la douceur et l'aspect duveteux de ces chaussettes de ski, qui sont aussi plus chaudes grâce aux capacités des fibres de cachemire à isoler les pieds en conservant la chaleur corporelle. Leur motif rétro chic est directement inspiré des tricots vintage de Noël très tendances dans les années 60 et évidemment indémodables !
# Chaussettes d'après-ski
Vous aimez revenir à des chaussettes plus décontractées pour détendre vos pieds après une longue journée d'effort sur les pistes ? Nous avons également fait une sélection des chaussettes d'après-ski les plus confortables, chaudes et douces idéales à porter dans des chaussures de montage. Cachemire, laine épaisse, cachemire & soie… Il y en aura pour tous les montagnards !