Knee-high socks in Cotton lisle
Cotton lisle
These are all our knee-high cotton lisle socks, a high quality cotton from Egypt.
Cotton lisle is a light, fine and delicate material that can be worn all year round, for everyday wear or for special occasions
Among all the cotton lisle options, you will find plain, striped, houndstooth, birdseye, Argyle...
Le fil d'Écosse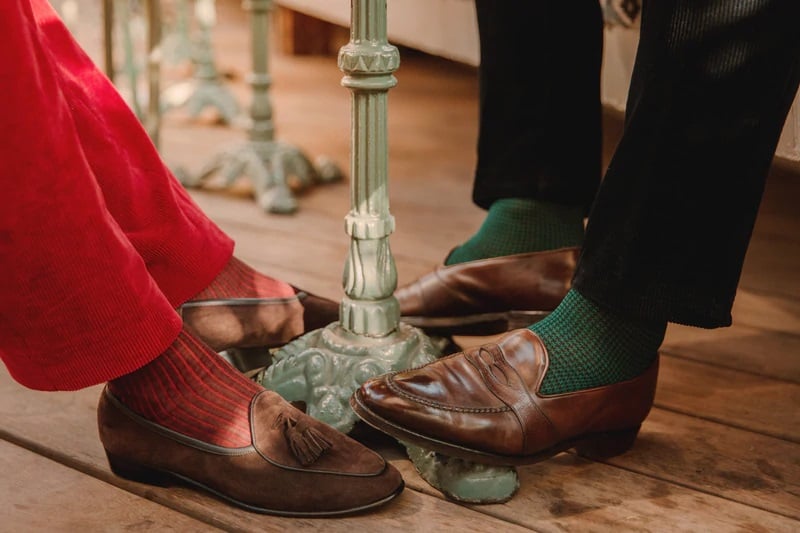 # Le fil d'Écosse vient-il d'Écosse ?

Pas du tout ! Les fils de nos chaussettes n'ont jamais mis les pieds en Écosse. Simplement la mercerisation a été inventée par John Mercer, un Écossais : c'est donc un hommage à sa nationalité. Concrètement l'intérêt de ce procédé consiste à bruler les fibres qui s'échappent du fil afin de le rendre plus uniforme, plus brillant (moins duveteux) et surtout éviter l'apparition des bouloches !
# Quand porter des mi-bas en fil d'Ecosse ?

La majorité des Français portent des chaussettes en coton toute l'année ! Le fil d'Écosse se porte aussi bien pendant les saisons froides que chaudes. La douceur du fil d'Écosse protège les pieds en hiver (si vous êtes frileux ça ne sera sûrement pas suffisant !). Sa légèreté et sa finesse en font des chaussettes particulièrement agréables à enfiler en été car il garde les pieds au frais.


# Quand faut-il éviter d'en porter ?

Pour les grands frileux ou les personnes exposées longtemps au froid, le fil d'Écosse n'apportera pas autant de chaleur qu'une paire de chaussettes en laine. Mais, pour les personnes passant d'un domicile chauffé à un bureau également chauffé, le fil d'Écosse sera amplement suffisant !