Cashmere socks
Cashmere socks
Our selection of short (mid-calf) cashmere socks.
These men's cashmere socks are an exquisite blend of comfort and warmth. A must-have in any wardrobe, specially for the colder seasons.
Find the cashmere pair that suits you best according to its composition (100% cashmere or cashmere blend) and its thickness!

Chaussettes cachemire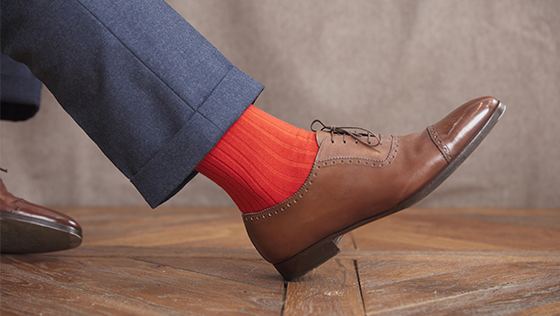 # Where cashmere socks come from
Cashmere, also known as Kashmir, is a landlocked region between India, Pakistan and China that owes its reputation to its expertise in knitting the wool of Capra Hircus goats.
It's a common misconception that Kashmir is also the region of origin of the goats from which cashmere yarns are made, but in fact it's not! These goats live in the heights of the Himalayan mountains and use their coats to withstand the very low temperatures of this climate (down to -40°!). To protect themselves from the cold, they produce an undercoat of very fine hair, which is shorn in the spring and then recovered to make cashmere wool. All our cashmere socks are knitted from this wool!
Fun fact: the first garment made from this material was... a pair of cashmere socks! This pair of socks was given to the King of Kashmir in the 14th century by a Persian poet.
# Finding the perfect cashmere socks
At Mes Chaussettes Rouges, we offer 3 ranges of mid-calf cashmere socks. Each has its own specific features, depending on cashmere percentage, thickness, texture and appearance. In short, there's something to satisfy all our customers' winter sock needs and desires!
Find the ideal range of mid-calf (short) cashmere socks for your needs:
Thickness and warmth: Mazarin's 85% cashmere socks are renowned for their thickness, softness and wearability! Ideal for wearing with chunky mountain boots, après-ski or boots, these socks will give you unrivalled comfort and keep your feet warm whatever the cold winter temperatures.
finesse and softness: opt for cashmere and silk socks unrivalled softness and finesse! These socks combine the warmth of cashmere with the lightness, silkiness and softness of silk. Ideal for wearing with dress socks.
And if you can't make up your mind: you can always try out these two ranges 85% cashmere and cashmere and silk by taking the 5 cashmere - mid-calf (short socks) set.
N.B.: the quality of cashmere socks does not depend, as you might think, on the number of threads in the cashmere wool used for knitting, but on the fineness of these threads and, above all, their length! The finer they are, the better their quality, and the longer they are, the more resistant they are.
# The secrets of caring for cashmere socks
Put an end to preconceived ideas: cashmere socks are machine-washable! Yes, cashmere loves water. But why? Because water allows the cashmere fibers to shrink and return to their natural shape as they dry, giving your cashmere socks a new lease on life.
But there are a few precautions to take:
machine washing should be on wool mode, preferably cold and with a very low spin speed (between 400 and 600 rpm);
tumble-drying is forbidden: prefer natural, flat drying to allow the fibers to recover;
And if you're still hesitating... you can, of course, wash them by hand, kneading them gently to avoid deforming them!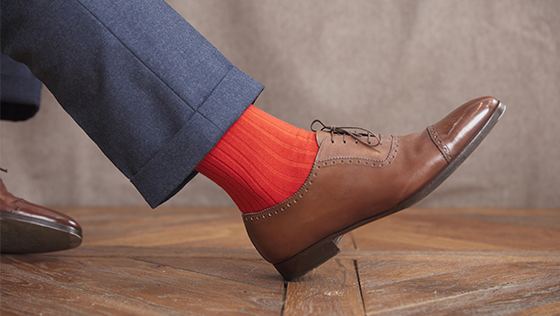 # Buy cashmere socks at Mes Chaussettes Rouges
Why buy mid-calf cashmere socks from Mes Chaussettes Rouges?
For the choice of colors of socks we offer: you'll find over thirty different colors of cashmere socks to match all your outfits - by far the widest selection on the market.
Because we take care to offer eco-responsible products: the coloring techniques used for our socks are carried out in audited Italian workshops certified to OEKO-TEX Standard 100 Class 1, guaranteeing eco-responsible manufacturing practices.
For the diversity of the cashmere ranges we offer: from 100% cashmere to 85% cashmere and cashmere socks mixed with silk, you're bound to find a sock to suit you!
Fun fact: we feel even more justified in offering the best range of cashmere socks since we learned that two Frenchmen were responsible for the success of cashmere after importing it to France and Europe in the 19th century!