Cashmere socks
Cashmere socks
Our selection of short (mid-calf) cashmere socks.
These men's cashmere socks are an exquisite blend of comfort and warmth. A must-have in any wardrobe, specially for the colder seasons.
Find the cashmere pair that suits you best according to its composition (100% cashmere or cashmere blend) and its thickness!

Chaussettes cachemire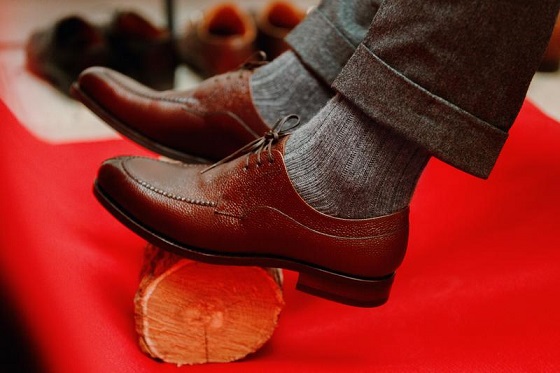 # Les chaussettes en cachemire, provenance de la matière
Le cachemire, aussi écrit Kashmire, est une région enclavée entre l'Inde, le Pakistan et la Chine et qui tient sa réputation de son savoir-faire dans le tricotage de la laine de chèvres Capra Hircus.
On pense souvent à tort que le Cachemire est aussi la région d'origine de ces chèvres dont proviennent les fils de cachemire mais en réalité pas du tout ! Ces chèvres vivent dans les hauteurs de la région montagneuse de l'Himalaya et utilisent leur pelage pour affronter les très basses températures de ce climat (jusqu'à -40° !). C'est d'ailleurs pour se protéger du froid qu'elles produisent une sous-couche de poils très fins, tondue ensuite au Printemps puis récupérée pour en faire de la laine de cachemire. C'est donc à partir de cette laine que sont tricotées toutes nos chaussettes en cachemire !
Fun fact : le premier habit fabriqué avec cette matière était… une paire de chaussettes en cachemire ! Cette paire de chaussettes avait été offerte au roi du Cachemire au XIVème siècle par un poète persan.
# Trouver les chaussettes en cachemire idéales
Chez Mes Chaussettes Rouges, nous proposons 3 gammes de chaussettes en cachemire mi-mollet (qui arrivent au milieu du mollet, les plus courtes). Chacune d'entre elles a ses spécificités selon son pourcentage de cachemire, son épaisseur, sa texture et son aspect. Bref, de quoi satisfaire tous les besoins et toutes les envies de chaussettes d'hiver de nos clients !
Trouvez la gamme de chaussettes cachemire en mi-mollet (courtes) idéale selon vos besoins :
épaisseur et chaleur : les chaussettes en 85% cachemire de Mazarin sont réputées pour leur épaisseur, leur effet moelleux au porter et leur douceur ! Idéales à porter dans de grosses chaussures de montagnes, des après-ski ou encore des bottes, ces chaussettes vous procureront un confort sans égal et garderont vos pieds au chaud quelles que soient les froides températures d'hiver.
finesse et douceur : optez pour des chaussettes en cachemire et soie d 'une douceur et d'une finesse inégalées ! Ces chaussettes combinent la chaleur du cachemire et la légèreté, le soyeux et la douceur de la soie. Elles sont idéales à porter avec des chaussettes de ville.
et si vous n'arrivez pas à vous décider : il est toujours possible de tester ces deux gammes 85% cachemire et cachemire et soie en prenant le coffret 5 cachemires - mi-mollet (chaussettes courtes).
N.B : la qualité des chaussettes en cachemire ne tient pas, contrairement à ce que l'on pourrait penser, au nombre de fils dont est composée la laine de cachemire utilisée pour le tricotage, mais à la finesse de ces fils et surtout à l'heure longueur ! En effet, plus ils sont fins, plus ils sont de bonne qualité et plus ils sont longs, plus ils sont résistants.
# Les secrets de l'entretien des chaussettes cachemire
Stop aux idées reçues : les chaussettes cachemire se lavent en machine ! Oui, le cachemire adore l'eau. Pourquoi ? Parce que l'eau permet aux fibres de cachemire de se rétracter et donc de reprendre leur forme naturelle avec le séchage, de quoi redonner une nouvelle jeunesse à vos chaussettes en cachemire.
Mais attention, il y a quand même quelques précautions à prendre :
le lavage en machine doit se faire en régime laine, de préférence à froid et avec un essorage très faible (entre 400 et 600 tours) ;
le sèche-linge est interdit : privilégiez un séchage naturel et à plat pour laisser les fibres se remettre ;
et si vous hésitez encore… vous pouvez évidemment les laver à la main en les malaxant délicatement pour ne pas les déformer !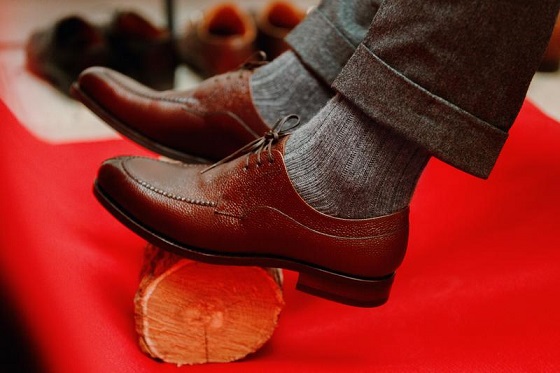 # Acheter ses chaussettes cachemire chez Mes Chaussettes Rouges
Pourquoi acheter ses chaussettes cachemire mi-mollet (courtes) chez Mes Chaussettes Rouges ?
Pour le choix des couleurs de chaussettes que nous proposons : vous trouverez plus d'une trentaine de couleurs de chaussettes cachemire différentes pour associer avec toutes vos tenues - c'est de loin l'offre la plus étoffée du marché ;
Parce que nous veillons à proposer des produits éco-responsables : les techniques de coloration de nos chaussettes sont réalisées dans des ateliers italiens audités et certifiés OEKO-TEX Standard 100 Class 1 ce qui garantit des pratiques de fabrication éco-responsables ;
Pour la diversité des gammes de cachemire proposées : du 100% cachemire au 85% en passant par les chaussettes en cachemire mélangé avec de la soie, vous trouverez forcément chaussettes à votre pied !
Fun fact : nous nous sentons d'autant plus légitimes à proposer la meilleure gamme de chaussettes en cachemire depuis que nous avons appris que ce sont deux français qui sont à l'origine du succès du cachemire après l'avoir importé en France et en Europe au XIXème siècle !