Brown knee-high socks
Brown socks
Brown knee-high socks are a wardrobe staple as they are easy to match with all colours of trousers and shoes.
Our selection of brown socks ranges from cotton lisle to wool to our Super-Durable range, browse through all the brown tones and patterns we have to offer!
Le marron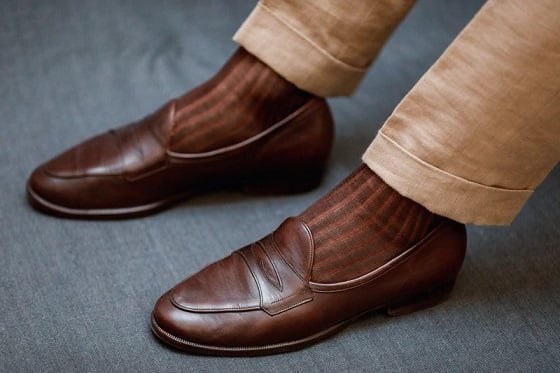 # Du marron, et pourquoi pas ?
Les chaussettes marron font partie des grands classiques : rien de plus facile à porter que des chaussettes marron tant les souliers de cette même couleur, souvent en cuir, sont répandus ! Vous l'aurez compris, les chaussettes marron s'accordent aux chaussures.
Mais vous pouvez aussi les associer à vos costumes ou pantalons couleur bleu marine, gris, vert, rouge ou encore orange. Le marron est une couleur sobre qui s'accorde bien avec des couleurs plus vives pour jouer sur les contrastes.
# Le marron & les motifs
Lorsqu'il est associé à d'autres couleurs, la sobriété du marron apporte de la lumière à vos tenues. Osez les chaussettes marron à côtes colorées, notamment bleues, ou encore le motif pied-de-poule marron & crème pour accentuer les contrastes de couleurs !