Knee-high socks in supersoft cotton
Supersoft cotton
Supersoft cotton socks are particularly soft and cosy.
Supersoft cotton is a non-mercerised cotton, i.e. not treated like 100% cotton lisle in order to ensure a softness that will remain intact even after many washes.
Chaussettes en coton supersoft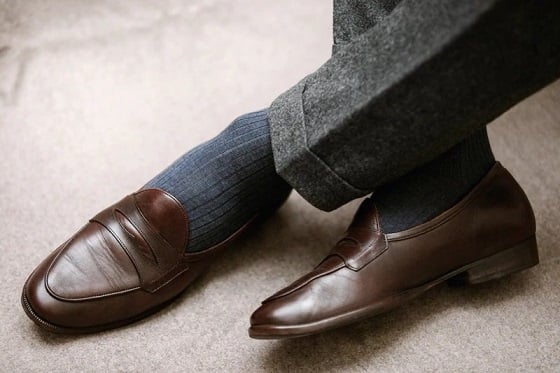 # Le coton supersoft, ca veut dire quoi ?
C'est un coton non mercerisé, contrairement au fil d'Écosse. Son aspect est donc plus doux au toucher et moins soyeux.
# Quel avantage ?
Étant plus duveteux que le fil d'Écosse, les chaussettes en coton supersoft sont extrèmement douces. Douceur qui ne disparaît pas, même après plusieurs lavages. C'est leur principale qualité !
# J'ai entendu que le coton supersoft bouloche plus, est-ce que c'est vrai ?
Oui, c'était vrai. Le coton duveteux bouloche un peu plus mais heureusement, en 2019, notre filateur a déposé un nouveau brevet pour protéger une nouvelle manière de filer, plus compacte, qui évite les bouloches. Ça nous a convaincu et ça marche !