Knee-high socks in Wool
Wool
Discover all our wool socks in knee-highs, the ideal material to wear in winter for its softness and insulating properties.
There are different types of wool socks: the thinnest in merino wool, the strongest in Super-Durable wool and the warmest in wool & cashmere.
Indulge yourself with Bresciani's Norwegian high socks and their creative style!
La laine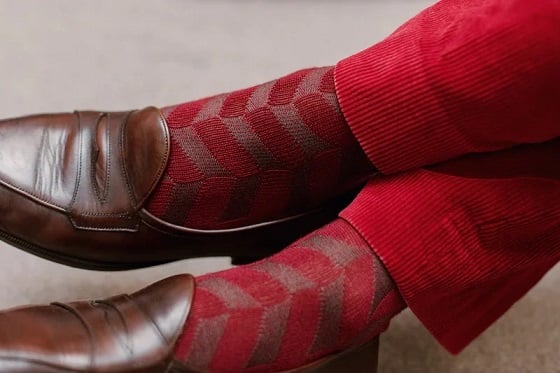 # L'origine de la laine
La laine de nos chaussettes est issue de mérinos, l'espèce de mouton qui produit la laine la plus fine, la plus douce et la plus chaude. Originaire d'Espagne, c'est une espèce connue pour l'abondance et la qualité de sa laine qui, tricotées, en font des chaussettes duveteuses.
# Quand porter des chaussettes en laine ?
La laine est une matière isolante qui protège du froid : les chaussettes en laine sont donc idéales à porter par basses températures. Nous proposons différents types de laine et notamment, différentes épaisseurs pour convenir à tous les besoins : de la laine mérinos (la plus fine) aux chaussettes 90% laine (plus épaisses).
# Entretenir la laine
La laine requiert des précautions de lavage : il est recommandé de laver ces chaussettes en machine en régime laine, avec un essorage à moins de 600 tours/minute pour maintenir leur forme.