Beige knee-high socks
Beige socks
Discover all our beige knee-high socks, ideal to give your outfits a boost of style without trying too hard.
Plain or patterned with houndstooth, Argyle or birdseye, these socks are always very elegant.
We especially recommend the beige knee-highs during the summer season, and especially the linen socks from Bresciani.
Le beige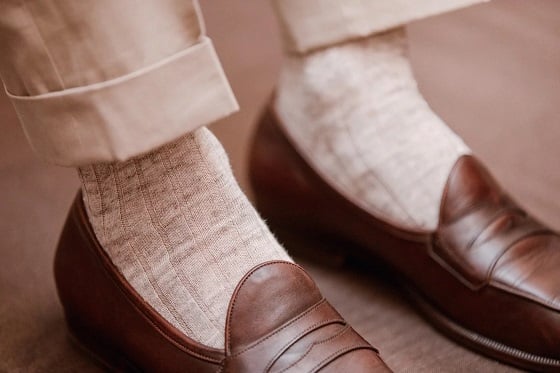 # Les chaussettes beiges
Le beige est une couleur intemporelle, souvent associée à des tenues plus estivales pour sa clarté (et moins formelles ?). Les chaussettes beiges redonnent de l'éclat à une tenue. Elles se portent très facilement pour la saison printemps-été avec des pantalons clairs ou même des pantalons plus légers (en toile ou en lin par exemple).
# Comment associer ses chaussettes beiges ?
Le beige est une couleur facile à porter qui se fond facilement dans une tenue. À porter en ton-sur-ton avec un pantalon (et même des baskets !) pour un effet fondu raffiné qui allonge la jambe. Nous aimons particulièrement le modèle beige en fil d'Écosse super-solide et les modèles en lin chiné de chez Bresciani.
Vous pouvez aussi vous amuser à jouer sur les contrastes en associant vos chaussettes beiges à des pantalons plus foncés (marron, vert ou même du bleu jean) ou encore avec des chaussures en cuir.
Et si vous aimez l'originalité et les détails osés, les chaussettes beiges vous offrent un large choix de combinaison de motif pied-de-poule contrasté (notamment chez Bresciani) !