No-show socks for men
Invisible socks for men
Here's our selection of men's invisible socks.
These socks are available in two models: socks for trainers (low-cut socks) and for moccasins (invisible with a wide opening).
Les socquettes homme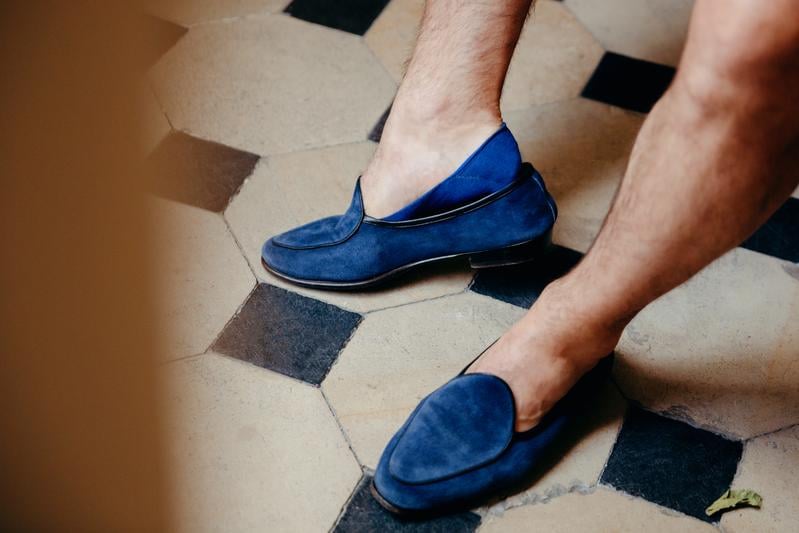 # Les types de socquettes homme
Les socquettes homme comprennent trois types de socquettes différentes.
1/ Les plus échancrées sont les socquettes homme mocassins car les mocassins sont les chaussures les plus ouvertes. Ces chaussettes invisibles mocassins portent bien leur nom puisqu'on ne les voit absolument pas. En effet, voir des socquettes dans des mocassins n'est pas très chic, c'est pourquoi la coupe est très ouverte. Même dans des mocassins belges, elles seront invisibles. Et devinez quoi ? C'est pour cela que l'on parle aussi bien de « socquettes mocassins » que de « socquettes invisibles » 😉
2/ Ensuite, ce sont les socquettes baskets ou sneakers. Comme les baskets remontent un peu plus, elles remontent elles-aussi un peu plus. Cela permet plus de protection et un maintien parfait. Un fin liseré supérieur de la chaussure pourra être visible, montrant ainsi au monde que vous avez des chaussettes, rassurant ainsi vos interlocuteurs sur votre hygiène. C'est parce qu'on voit le dernier millimètre de la socquette, que nous proposons des socquettes homme fantaisie avec beaucoup de couleurs différentes et tendances : socquette hommes bleu marine, socquette rouge vif, orange ou marron.
3/ Enfin, dans la grande catégorie des socquettes homme, il y a aussi les paires de chaussettes malléoles. Des socquettes sport homme recommandées lors d'une séance de tennis, de running ou de golf. Nos socquettes sport homme apportent un look casual chic. Des chaussettes courtes qui épousent parfaitement vos pieds pour un confort optimal et une protection assurée pendant l'effort. Des chaussettes de sport idéales pour améliorer vos performances.
# Quelles socquettes homme mettre avec des chaussures en cuir, type richelieu ou derby ?
La mode des socquettes homme est née dans le nord de l'Italie. Il faut remonter aux années 2010-2015 à Florence pour voir ces premières tenues « sartoriales », c'est-à-dire des costumes sur-mesure, assortis avec des chaussures richelieu (les anglais disent oxford) ou des chaussures Derby mais sans chaussettes apparentes. Le contact du cuir avec la peau étant assez désagréable, les socquettes homme firent leur apparition afin de répondre à une demande esthétique et à un besoin de confort. Les socquettes invisibles sont de véritables chaussettes homme luxe, à porter avec des mocassins pour un style raffiné et élégant.
.
# Pourquoi mettre des socquettes homme si c'est pour qu'elles soient invisibles ?
Pourquoi s'offrir des socquettes homme pour paraître pied nu ? La question est légitime et personne ne veut être aussi ridicule que l'empereur du célèbre conte d'Andersen, les Habits neufs de l'Empereur.
C'est pour deux raisons essentielles qu'il est nécessaire de porter des socquettes. La première raison, c'est qu'elles protègent vos pieds ! Les socquettes homme vous éviteront ainsi d'avoir des ampoules au talon. Les frottements répétés entre vos chaussures et la peau de votre pied peut créer des ampoules douloureuses. Elle aura donc un rôle très protecteur pour votre pied.
L'autre raison, c'est de protéger votre chaussure. La socquette homme, en absorbant la transpiration, rafraîchira votre pied et limitera l'humidité absorbée par le cuir. Or, c'est l'humidité qui abîme beaucoup le cuir en chassant les corps gras de ce dernier. Or si le cuir est sec, il va se craqueler plus vite. Par ailleurs, une chaussette courte se lave plus facilement qu'une chaussure, donc plus souvent. La socquette homme évitera donc la prolifération de bactéries dans les chaussures et les mauvaises odeurs. Une mini chaussette indispensable à la gent masculine quand on sait que les hommes transpirent en moyenne davantage que les femmes
.
# Comment reconnaître une socquette homme de qualité ?
Le remaillage. Il est indispensable d'avoir une socquette homme sans couture. À vrai dire, on parle abusivement de socquettes sans couture car il s'agit en réalité d'une chaussettes avec une couture plate, sans aucun bourrelet, contrairement à la couture appelée rosso, ou à l'aveugle qui fait un gros bourrelet désagréable. Tous les produits de cette page sont des socquettes homme sans couture.
Le silicone à l'arrière. Il est indispensable sur les socquettes homme mocassins. Pour être invisibles, les socquettes doivent être courtes et il faut donc le concours du silicone pour que le talon de la socquette ne glisse pas dans la chaussure.
La finesse. Plus encore que les femmes, les hommes ne mettent des socquettes que quand il fait chaud pour avoir les chevilles à l'air. Ainsi, il convient que les socquettes homme soient très fines. C'est le cas des nôtres. Le tricotage de certaines socquettes est même alvéolaire pour les rendre encore plus aérées.
La qualité du fil. Malheureusement, il est impossible de voir la qualité du fil de nos socquettes homme à l'œil nu. Il faut donc faire confiance au fabricant. Dans notre cas, nos socquettes coton homme sont toutes extra-longues staple, c'est-à-dire, la meilleure catégorie parmi celle établie par l'OMC, avec une longueur moyenne de fibre quasiment égale à 50mm. Idem pour le lin. Il s'agit d'un lin fabriqué en France et filé en Italie.
Anecdote : Le mot socquette ne figure pas dans le dictionnaire de l'Académie Française, ainsi son orthographe n'est pas complètement claire. Certains l'écrivent socquettes (avec un c), comme le Larousse, d'autres soquettes. À vous de vous faire votre idée !
Deuxième anecdote : Le conte Les habits neufs de l'Empereur d'Andersen est sorti en 1837, la même année que « La Petite Sirène ».