Striped knee-high socks
Striped socks
Striped socks - also known as bicolour - are great if you want to give your socks an extra touch of colour in a discreet way.
Discover more than 70 striped socks with coloured ribbing in knee-highs, fromcotton lisle to wool, as well as the Super-Durable range.
Also available in mid-calf.
Les rayures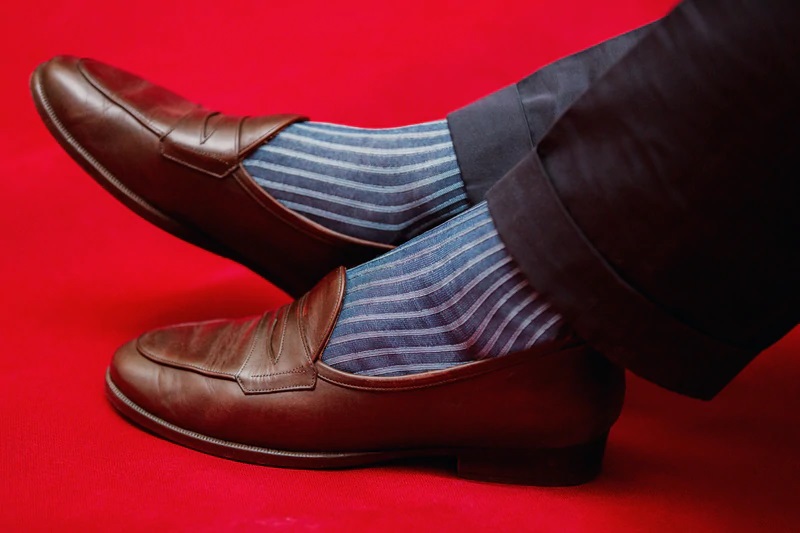 # Comment porter des chaussettes à rayures ?
La rayure est un motif classique et élégant qui permet de varier des chaussettes unies en toute subtilité. S'il y a bien un motif à avoir dans son tiroir à chaussettes c'est donc bien celui-là ! Nous proposons deux types de chaussettes à rayures : les rayures verticales, les plus discrètes qui se perçoivent lorsque la chaussette est bien tirée (Bresciani et Mazarin), et les rayures horizontales, plus larges qui donnent un rendu décontracté (Gallo).
Les chaussettes à côtes colorées, aussi appelées vanisées, permettent une multitude d'association de couleurs. Apportez une touche de couleur délicate à votre tenue en assortissant les côtes à votre pantalon ou vos chaussures !
# Nos coups de cœur
Comme vous vous en doutez, nous aimons toutes nos chaussettes. Mais si nous devions sélectionner les must-have, voici ce que nous vous proposerions :
Fun fact : certaines paires de chaussettes vanisées sont réversibles, vous pouvez donc les porter à l'envers pour inverser les couleurs et apporter du relief à vos chaussettes – comme avec cette paire gris clair & aubergine Mazarin.