Men's cotton-lisle socks
Men's socks in cotton-lisle
The men's cotton-lisle socks are a must-have for your wardrobe.
Discover all our models of men's cotton-lisle socks.
Comfortable, lightweight men's socks for all seasons.
Our men's cotton-lisle socks are available in plain or patterned colors, from 36 to 49 depending on the model.
Men's cotton-lisle socks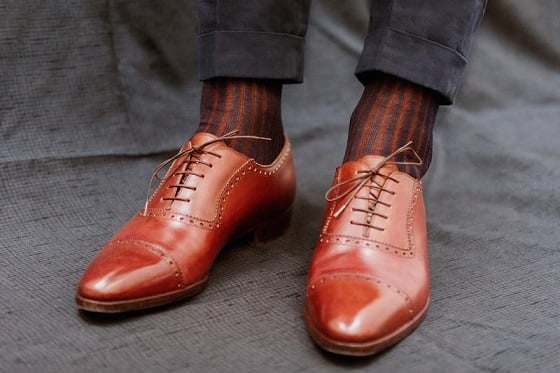 Scottish thread socks for men, the origins of the material
Think again...Scottish yarn, or cotton-lisle, doesn't come from Scotland! So where doest the name come from? Because the manufacturing process for cotton-lisle yarn uses a very specific yarn-treatment technique invented by a Scotsman, the famous John Mercer. He perfected mercerization in 1844, a process that produces yarn of superior quality. Mercerization eliminates the cotton fibers that protrude from the yarn, resulting in a very clean, shiny yarn texture. These two qualities are unique to cotton-lisle yarn, making it the best yarn for knitting exceptional men's cotton-lisle socks like the ones we offer.
Fun fact: mercerization consists in impregnating the yarn with a caustic soda-based solution that enables the yarn to absorb dyes even better. So, rest assured, your cotton-lisle men's socks won't fade, and will retain their vibrant color for the rest of their life!
So not only does cotton-lisle yarn not come from Scotland, but the yarn we use for our socks comes from Egypt! Why from so far away? Because it's rare to find it closer to home (especially in Europe), and because one of the best cotton yarns is grown in Egypt. So, sourcing from Egypt allows us to send the yarn directly to our production workshops in Italy, then receive the men's fil d'Écosse socks in Paris. What's more, we guarantee the shortest and fastest Cairo-Milan-Paris production chain to limit our CO2 emissions.
Wearing men's cotton-lislesocks
Men's cotton-lisle socks can be worn all year round! They are characterized by their thinness and lightness (though they are not transparent). Pairs of men's mid-calf fil d'Écosse socks are ideal if you're used to wearing narrow shoes or tight-fitting pants, for example. What's more, the mercerization process, as described above, makes the yarn sharper, giving the socks even thickness, greater strength and better fiber elasticity. Fil d'Ecosse men's socks are made from a noble raw material, a guarantee of quality. Top-of-the-range men's socks that give feet softness, finesse and freshness. A perfect pair of men's socks for summer.
N.B.: if you're a cold-we advise you to opt for warmer, thicker socks for the winter season, as men's fil d'Écosse socks are not renowned for their insulating properties. So opt for wool socks or cashmere cashmere calf socks.
Thanks to their finesse and color-absorbing properties, men's Scottish yarn socks are available in a wide range of colors and delicate, refined patterns. Among our cotton-lisle socks ranges, you'll find :
Men's plain cotton-lisle socks: discover over thirty colors of men's mid-calf cotton-lisle socks. From classic, timeless colors (such as navy blue, black, charcoal gray or brown) to brighter, more original colors (such as orange, bright Gammarelli red, Mazarin Academy green or yellow);
Patterned men's fil d'Écosse socks: from vanished or striped socks to houndstooth and caviar patterns, not forgetting herringbone, patterned men's fil d'Écosse socks let you dare to be fanciful, without a lack of taste! Trendy, comfortable men's socks!
And if you have the annoying habit of poking holes in your socks and think that Scottish thread isn't for you... We've got the solution! Mazarin offers a range of men's socks in reinforced Scottish yarn: the super-strong Scottish yarn socks combine the best of Scottish yarn (72%) and synthetics, notably polyamide (23%), to give these virtually indestructible socks their distinctive robustness!
# Caring for your men's yarn socks
As you can see, fil d'écosse men's socks are made from top-quality cotton. Care for these socks is relatively simple! You can machine-wash them at normal speed (30° or 40° and spin at 1200 rpm, for example), or even tumble-dry them.
But we do have a few recommendations for keeping them looking like new for longer:
Use a wash bag to prevent the knitted fabric from catching on the machine drum. You can also wash your socks in pairs without them disappearing in the machine (we've all been victims of this unexplained disappearance phenomenon);
Dry your men's high socks flat to allow the yarn to return to its natural shape as it dries, so they don't warp;
And last but not least, store your socks not in a ball, but folded! Admittedly, this requires a certain amount of care (which I'm sure you already have...!), but it preserves the elasticity of men's Scottish socks as well as their shape.
Our commitments to producing long-lasting men's scottish yarn socks
Materials: Our yarn suppliers are constantly innovating to offer less water-intensive cotton-based yarns from Scotland. As a result, we're working to increase the use of organic cotton in our men's yarn socks ranges. If you'd like to take the responsible socks plunge, we offer you a range of Mazarin organic cotton mid-calf socks, extra-soft and comfortable.
Production chain: As mentioned above, we always try to find the best compromise between supplier location and quality of raw materials when choosing our partners. All this while favoring countries close to our point of sale, Paris, in order to limit our CO2 emissions. With this in mind, we have chosen a Cairo/Milan/Paris route for sourcing raw materials, producing and distributing our men's fil d'Écosse socks and other product ranges.