Fantasy socks for women
Patterned socks for women
Ladies, give our patterned socks a try in a variety of colours and patterns from the brands Daphné, Bresciani and Bonne Maison

In cotton or in wool, women's patterned socks bring a refined and original touch to any outfit.
These original socks are available starting at size 36, in knee-high and mid-calf (short).
Chaussettes femme fantaisie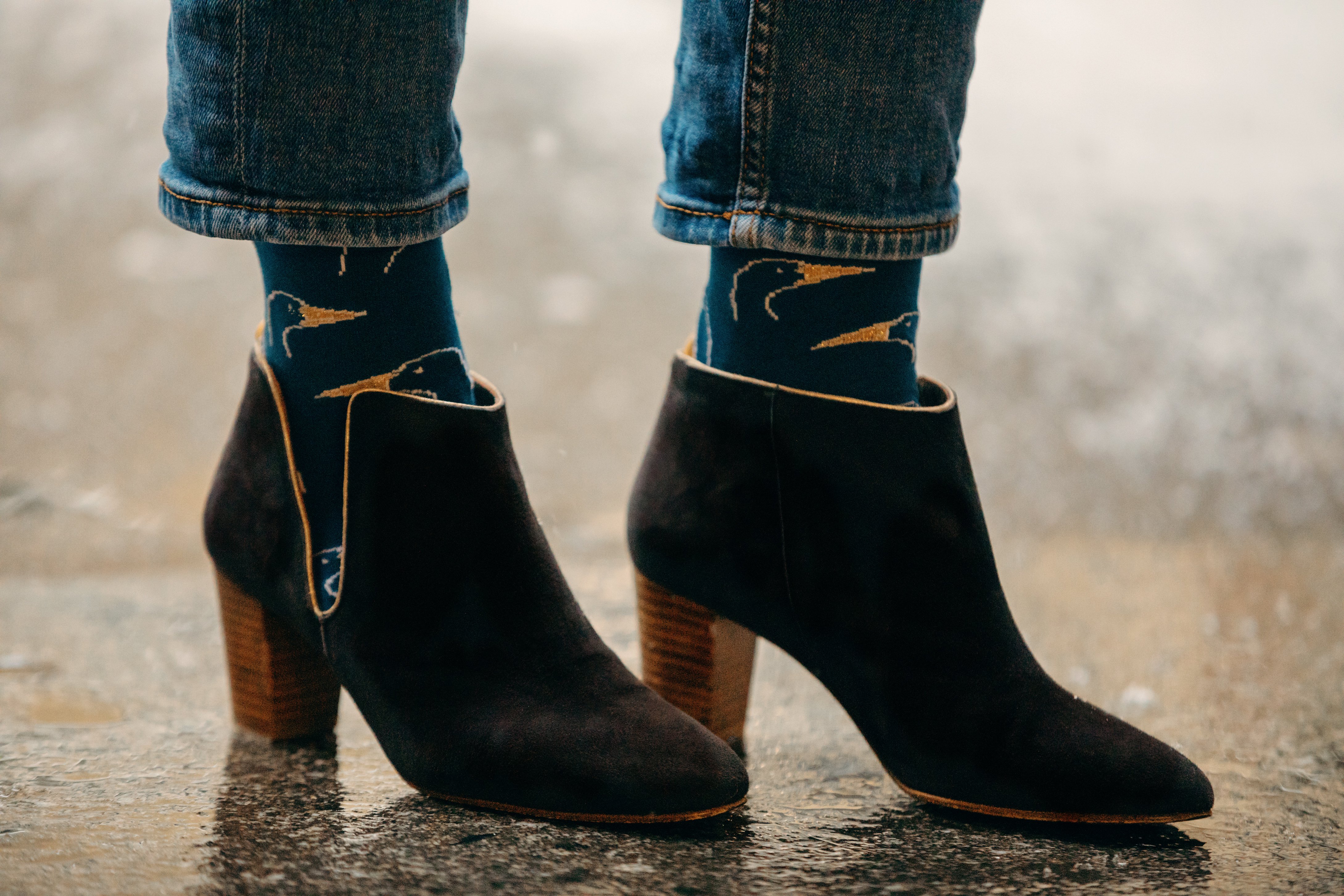 # Pourquoi porter des chaussettes femme fantaisie
Un jour, une envie, une paire : la diversité du canevas de nos chaussettes femme fantaisie vous permet de changer de style chaque jour avec une paire différente qui convient au mieux à vos désirs et folies du quotidien.
Vous faire plaisir : Ces chaussettes femme fantaisie sont de merveilleux accessoires du quotidien. Rehaussé discrètement les couleurs d'une tenue sombre, portez des motifs sans en faire trop avec une tenue habillée ou assumez le détail osé avec vos outfits décontractés. Et ces chaussettes femmes fantaisies feront aussi un cadeau idéal aux femmes avides d'originalité !
Dénicher la paire de chaussettes fantaisie femme qui vous conviendra le mieux : Certaines préfèrent les chaussettes unies, d'autres des chaussettes plus atypiques. Les nôtres sont idéales pour satisfaire toutes les envies les plus uniques. Les paires de chaussettes fantaisie sont fines et s'adaptent merveilleusement bien au pied féminin. Elles sont disponibles dès le 36 et jusqu'au 41. De manière générale, nous avons essayé de vous présenter une large offre de paires de chaussettes féminines en jouant sur l'originalité des modèles et la diversité des formes.
Découvrir de nouvelles matières : de l'aisance apportée par le fil d'Écosse à la douceur de la laine, nos chaussettes femme fantaisie sont parfaites pour tester différentes matières et porter des chaussettes fantaisie toute l'année !
# Les marques de chaussettes femme fantaisie
Chez Mes Chaussettes Rouges nous proposons plusieurs marques de chaussettes pour femme pour leur formes (généralement plus fines que les chaussettes pour homme), leurs motifs et leurs détails raffinés. Voici les marques qui proposent des chaussettes femme fantaisie :
Daphné : Cette marque française est la gamme femme de Mazarin. Daphné propose des chaussettes femme made in France de toutes sortes, des plus classiques aux motifs fantaisie, notamment avec la collection Rome. Inspirées des symboles les plus emblématiques de la capitale italienne, ces chaussettes se distinguent par leurs finitions (liseré doré à l'extrémité haute des chaussettes) et bien sûr leur histoire.
Bonne Maison : Incontournables marque des chaussettes femme fantaisie, Bonne Maison est la marque de bonnetterie Française reconnue pour ses modèle fantaisie à l'originalité et au chic indéniable. Vous serez surprise par la douceur de leur coton, la vivacité de leurs motifs et surtout la finesse de leur tricotage effectué soit en France soit au Portugal. Bref, si vous cherchez à vous démarquer, ce sont des chaussettes Bonne Maison qu'il faut porter !
Bresciani : Iconique marque de chaussettes italienne, Bresciani a, en plus de sa gamme homme aux couleurs variées, une gamme femme d'hiver. Les chaussettes femme fantaisie norvégiennes sont les chaussettes d'hiver les plus épaisses, douces et confortables des chaussettes femme en laine ! Et leur motif à l'esprit hivernal de noël est une must-have de votre tiroir à chaussettes hivernal. Ce modèle de chaussettes en laine est disponible en hauteur mi-bas en rouge et en bleu clair.
# Les chaussettes femme fantaisie
Apprenez tout sur les chaussettes fantaisie : les motifs, les matières, comment les porter ou les laver… Vous serez impatientes de les essayer !
La variété des chaussettes femme fantaisie
Les norvégiennes: En cette période hivernale, nos chaussettes femme fantaisie norvégiennes en laine mérinos réchaufferont vos pieds dans les moments les plus frais de la journée tout en vous accompagnant confortablement à la maison. Les motifs norvégiens rouges et bleu clair de ces chaussettes femme sont inspirés des arts inuits.
Quand les porter ? Ces chaussettes en laine, qui restent chics en toutes circonstances, se portent idéalement à la montagne, par exemple en après-ski au sport d'hiver ! Vous pouvez également les porter en ville dans de larges chaussures ou chez vous pour un effet cozy 100% assuré.
La dolce vita romaine: Si vous cherchez des chaussettes femme iconiques, jettez un oeil à la série de chaussettes femme fantaisie Daphné sur la ville de Rome ! Des pins parasols au Colisée en passant par les mosaïques de la villa Borghese, ces modèles de chaussettes femme vous emmèneront dans l'ambiance chaleureuse de cette ville méditéranéenne tout en apportant une élégance italienne et originale à vos tenues les plus tendances. Si vous préférez la faune et la flore, les chaussettes à motifs d'oies ou de laurier feront votre bonheur.
Quand les porter ? Ces chaussettes en coton égyptien sont d'une excellente qualité, légères et douces à la fois. Elles sont adaptées à toutes les saisons et particulièrement au printemps et à l'automne.
Les animaux mystiques: Des enfers les plus mystérieux au paradis des cieux, des chiens aux anges, les oiseaux paraissent s'envoler dans le ciel et les ours grimpent aux arbres. Les chaussettes femme fantaisie de ces univers vous emmèneront dans des horizons mythologiques et curieux dignes des plus grands mythes.
Comment les porter ? Ces chaussettes femme aux motifs fantaisie originaux se porteront volontiers avec des tenues décontractées, comme avec des baskets ou des bottines. La légèreté du coton dont elles sont composées en font des chaussettes très confortables et douces.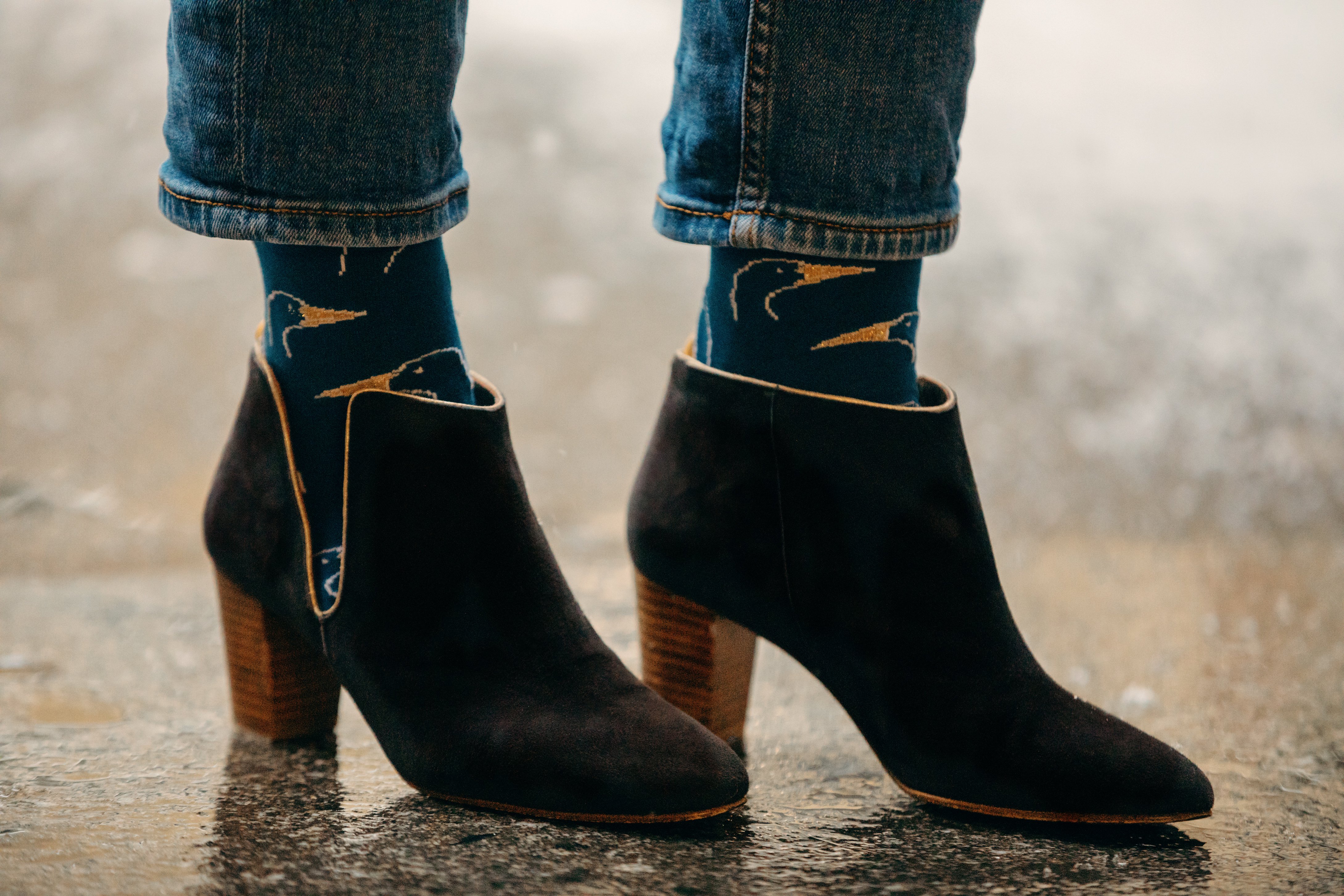 La nature: Les chaussettes aux imprimés naturels et inspirés des plus grands motifs indiens et des fleurs vous donneront des envies de balade aux quatres coins de la planète, de la jungle aux prairies verdoyantes françaises.
Comment les porter ? La douceur des tons et la chaleur des couleurs: jaune, orange, mauve, vert,... accompagnent toutes vos tenues les plus simples et les plus originales en leur apportant une touche artistique digne des plus grands tableaux des musées du monde.
Art moderne: Les carreaux colorés et les visages contrastés des chaussettes Bonne Maison redonnent de l'éclat à vos tenues et même… de la crédibilité à vos look les plus originaux. Amateurs de motifs plus concrets, rectangulaires et aux visages expressifs, ces chaussettes femme sont pour vous !
Comment porter la chaussette fantaisie ?
Vous aimez surprendre? Vous aimez l'inattendu et l'aventure? Laissez-vous tenter par une paire de chaussettes femme fantaisie pour laisser libre cours à votre imagination. Porter ces chaussettes femme fantaisie au quotidien est une habitude à prendre qui suscitera les regards des plus timides, les questions des plus curieux et les envies des plus audacieux. Ces chaussettes réhaussent vos tenues d'une touche d'originalité et de vivacité entre vos chaussures et votre pantalon : elles dynamisent vos tenues de manière discrète et à la fois éclatante. Ces chaussettes fantaisie feront voyager les plus rêveuses dans des contrées mystérieuses le temps d'une journée ou d'une soirée. De plus, par tous les temps, elles illuminent vos tenues et appellent le soleil à vos pieds dans les jours parfois ternes du quotidien. Osez les portez et laissez vous tenter par la multitude de couleurs et de motifs de nos chaussettes femme pour laisser libre cours à votre créativité vestimentaire et sortir de l'ordinaire. Nos chaussettes femme fantaisie conviennent à toutes les personnalités et la touche ponctuelle d'originalité de nos chaussettes donnera encore plus de caractère à vos tenues.
Les contrastes de couleurs permis par le motif font des chaussettes femme fantaisie un must-have de la saison. Si vous souhaitez qu'elles se remarquent encore davantage, associez-les à des tenues plus sobres et unicolores et accordez les couleurs à celles de vos accessoires pour souligner les contrastes. Pour un look plus discret, vous pouvez toujours mélanger les couleurs des motifs à celles de vos pantalons.
N.B : pour l'entretien des chaussettes, pensez à faire la différence entre les chaussettes femme fantaisie en coton et en laine. Celles en coton se lavent en machine en régime normal et peuvent aller au sèche-linge. Mais attention, pour celles en laine, il faut les laver en régime laine ou délicat, à froid (30°) avec un essorage maximum de 600 tours/minute et privilégier un séchage naturel à plat.