Warm socks
Warm socks
Looking for socks to tackle the chilly weather? Here are all our warm mid-calf (short) socks for mild winter days.
Our warm sock models are relatively thin to be worn with any kind of shoe while insulating your feet from the cold.
The reason we affim these socks are warm is because of their properties and the kind of material they're made of.
Made of merino wool (90%) or Super-Durable wool (72%), they guarantee a warm, soft and comfortable feeling all winter long!
Chaussettes chaudes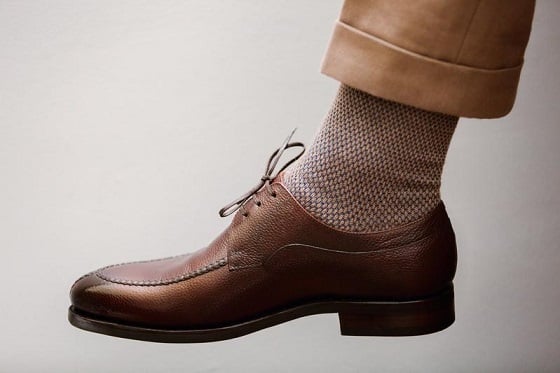 # Chaussette chaudes
Quand l'hiver arrive nous pensons souvent à sortir nos manteaux chauds… Mais il ne faut pas oublier vos chaussettes chaudes ! Les extrémités du corps sont souvent les endroits par lesquelles nous attrapons froid. Alors prévenons les rhumes en enfilant des chaussettes bien chaudes et confortables (et des bonnets !).
Les avantages des chaussette chaudes
Trop souvent considérées comme un accessoire, les chaussettes sont un indispensable de vos tenues d'hiver pour avoir bien chaud. Par temps froid, les chaussettes chaudes courtes (mi-mollet) vous apporteront :
Chaleur : les chaussettes chaudes présentées ici sont tricotées à partir d'une laine mérinos réputée pour ses propriétés thermorégulatrices. Les chaussettes en laine mérinos conservent la chaleur corporelle tout en laissant les pieds respirer.
Douceur : les fibres de laine sont fines et souples. C'est grâce à ces deux propriétés qu'au contact de la peau, les chaussettes en laine épousent bien la forme du corps et donc ne piquent pas !
Confort : les chaussettes chaudes en laine permettent à la fois de laisser les pieds respirer (car c'est une matière aérée) et de les garder au sec. La laine mérinos absorbe parfaitement l'humidité au cœur de ses fibres pour assurer un toucher sec aux fibres en contact direct avec la peau.
Style : les chaussettes en laine que nous proposons mélangent couleurs et motifs pour donner des modèles élégants avec une touche de fantaisie si vous souhaitez donner du caractère à vos tenues avec raffinement.
Les modèles de chaussettes chaudes courtes que nous proposons ont une composition bien pensée qui intègre, en plus de la laine naturelle, des matières synthétiques d'exception : le polyamide et d'élasthanne. Ces matières ont été minutieusement choisies car elles apportent respectivement solidité et souplesse aux chaussettes. Ainsi, même si les chaussettes d'hiver sont en matière naturelle délicate, elles sont renforcées pour résister à l'usure sur la durée et vous assurer un maintien impeccable.
Le saviez-vous ? Les chaussettes en laine peuvent également être portées en été et pour des sports comme la randonnée ! En effet, les chaussettes en laine absorbent parfaitement l'humidité, sont anti-odeurs et antibactériennes, idéales pour vous assurer du confort pendant toute la durée de l'effort. Et leurs propriétés thermorégulatrices gardent les pieds à bonne température en été et en hiver.
Nos gammes de chaussette chaudes
Il est important de savoir quelle est la matière et l'épaisseur de chaussettes qui vous correspondent le mieux. Et pour cela, il n'y a pas d'autres options que de tester ! Nous allons vous aider à identifier la paire de chaussettes chaudes idéale pour la saison hivernale.
Chaussettes chaudes en laine mérinos fine : Bresciani propose des chaussettes d'hiver composées à 80% en laine mérinos particulièrement fines et légères. Ces modèles haut de gamme sont adaptés aux personnes qui souhaitent avoir chaud aux pieds de façon raisonnée et bénéficier d'une sensation de légèreté dans leurs chaussettes.
Chaussettes chaudes d'épaisseur intermédiaire : Mazarin propose les chaussettes en laine les plus solides du marché avec sa gamme de chaussettes chaudes Super-solides. Ces chaussettes d'hiver mélangent parfaitement les meilleures matières naturelles et synthétiques pour donner des chaussettes à la fois chaudes, douces et très robustes face à l'usure. En effet, le polyamide est la matière utilisée pour fabriquer les amarres de bateau et l'élasthanne est réputé pour sa souplesse et sa tenue. D'épaisseur intermédiaire, les Super-solides ont été pensées pour vous accompagner tout l'hiver. Elles s'adaptent à toutes les tenues que vous portez : elles sont chic avec des chaussures de ville et pratiques avec des chaussures plus sportives. Et pour plus de style, essayez la gamme intermédiaire en laine et coton, tout aussi robuste, qui propose de magnifiques motifs vanisés colorés (gris & rouge, marron & ciel, marine & vert, bleu & rouge).
N.B : nous proposons également des modèles de chaussettes hautes chaudes qui arrivent jusque sous le genou. Elles vous tiendront encore plus chaud mais, attention, il ne faut pas craindre leur hauteur ! Jetez un coup d'œil à notre collection de mi-bas chauds par ici.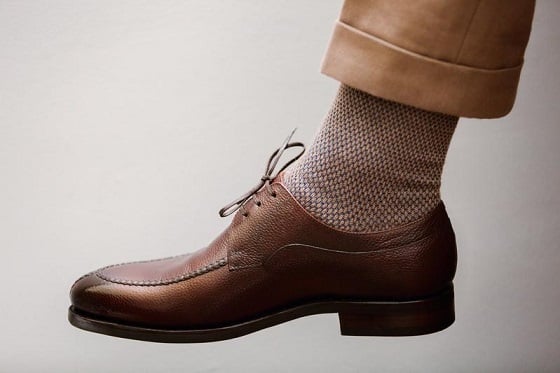 Les chaussettes chaudes antidérapantes
Connaissez-vous nos chaussettes chaudes antidérapantes ? Il s'agit des chaussettes chaussons pensées et tricotées par Mazarin ! Ces chaussettes ont été spécialement conçues pour être portées en intérieur et marcher à même le sol sans risquer de les abîmer ni de glisser grâce à leur semelle antidérapante. Leur composition en laine mérinos à 86% leur apporte à la fois confort grâce à l'épaisseur de matière, douceur et chaleur mais aussi solidité grâce aux renforts en polyamide. Leur plus ? La forme de la semelle rappelle la trace de pas laissée par Neil Armstrong lors de son passage sur la lune et leur motif caviar rappelle la voie lactée… d'où leur nom : le modèle Moonwalk !
# L'idée cadeau de Noël : coffrets de chaussettes chaudes !
Envie de partager votre amour pour les chaussettes chaudes ? Offrez l'un de nos coffrets cadeau chaussettes homme chaudes spécialement conçus pour tester 3 ou 5 paires de nos gammes de chaussettes chaudes (laine, cachemire et mélangé). Découvrez les coffrets chaussettes ici.