Red socks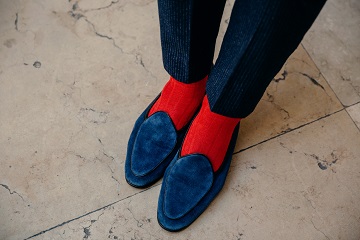 # Our red socks
If you're looking for red socks, it should come as no surprise that you'll find the best ones here at Mes Chaussettes Rouges! We offer about a hundred different models of red socks in a variety of materials and in both knee-high and mid-calf lengths.
Our most famous pair? Gammarelli's knee-high red socks, without a shadow of a doubt. Gammarelli is the Pope's tailor, and they provide socks for the clergy in the Vatican. Their red socks are specifically worn by cardinals.
# How to wear red socks?
Wearing the right socks can add a touch of creativity to your outfits. By wearing red, you'll definitely turn some heads! The more your red socks contrast with the colour of your outfit the more you'll stand out. Worn with trainers, red socks add an extra touch of elegance.
If you're after something a bit different, why not have a look at some of our patterned red socks? It's another way to accentuate colour contrasts, especially if red is paired with a brighter colour (such as Bresciani's cherry and beige in houndstooth.). Alternatively, soften red's brightness by blending it with darker colours (grey, brown, etc.) or wear it tone-on-tone.
Be bold enough to wear rock socks with style!