Knee-high socks for Men
Knee-high socks for men
Discover our wide range of men's knee-high socks, the highest socks that reach just below the knee.
The choice of the height of your men's socks is as important as the choice of materials (from 100% cotton lisle to 100% cashmere, silk, and the Super-Durable range).
Men's knee-high socks have two advantages: they provide an impeccable fit on the leg and they hide your skin when your trousers rise!
Chaussettes mi-bas homme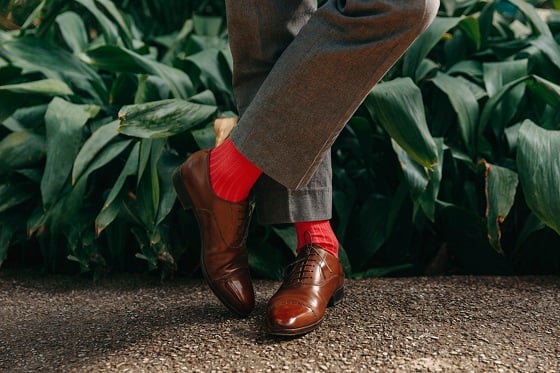 # Les chaussettes mi-bas homme : des chaussettes hautes élégantes et pratiques
Les chaussettes mi-bas homme sont appréciées pour plusieurs raisons : leur tenue impeccable et leur hauteur optimale.
N.B : elles sont appelées mi-bas parce qu'elles font la moitié des bas qui arrivent en haut des cuisses !
Quels sont les avantages des chaussettes hautes pour homme ?
Deux avantages aux chaussettes mi-bas homme :
Le maintien : Les chaussettes mi-bas homme arrivent juste au-dessus du galbe du mollet. C'est l'élasticité des matières qui permet à la chaussette montante de serrer très légèrement. Les chaussettes hautes homme restent ainsi bien en place tout au long de la journée. Vous l'aurez compris, vous n'aurez plus besoin de réajuster constamment vos chaussettes qui glissent sur votre mollet.
L'élégance : Les chaussettes mi-bas homme ont aussi un avantage esthétique. Si vous portez un pantalon assez court ou large, il est possible qu'en vous asseyant, une paire de mi-hautes ne suffise pas à couvrir suffisamment le mollet. Les chaussettes montantes permettent d'éviter cela, car elles recouvrent les jambes et les pieds et d'assurer une liaison parfaite entre votre pantalon et vos souliers, et d'éviter d'exposer vos mollets à votre entourage ! Les mi-bas sont généralement appréciés avec le port d'un costume.
Quand faut-il éviter de porter des chaussettes mi-bas homme ?
Selon nous, les chaussettes montantes peuvent être portées pour toutes les occasions ! Il existe cependant une exception. Si vos pantalons sont ajustés, il peut y avoir un frottement entre la matière du pantalon et celle des chaussettes au moment de s'asseoir. Dans ce cas-là, les chaussettes mi-mollet (ou chaussettes courtes) constituent une alternative valable.
# Chaussettes mi-bas homme en matières naturelles
Nos mi-bas homme sont disponibles dans une grande variété de matières, afin de pouvoir satisfaire tous les besoins selon les saisons et les caractéristiques recherchées.
Les chaussettes mi-bas homme en fil d'Écosse : Le fil d'Écosse est un fil de coton épuré. Les différents traitements appliqués, comme la mercerisation, le rendent plus fin et plus brillant. Ces chaussettes hommes en fil d'Ecosse sont légères et durables, et peuvent être portées pratiquement toute l'année (les plus courageux d'entre vous oseront même les porter en hiver).
Les chaussettes mi-bas homme en fil d'Écosse super-solide : Ces mi-bas homme allient le meilleur des matières naturelles et synthétiques pour assurer une robustesse sans pareille. Ils sont tricotés à partir de fil d'Écosse, et renforcés avec du polyamide et de l'élasthanne. Ces matières synthétiques, réputées pour leur solidité et leur souplesse, permettent d'obtenir les chaussettes montantes les plus résistantes au monde avec une tenue impeccable sur la jambe.
Les mi-bas en coton super-soft : Ce modèle de mi-bas homme est composé de coton non mercerisé d'une très grande douceur et duveteux. Le fil conserve sa douceur même après plusieurs passages en machine.
Les chaussettes mi-bas homme en coton Sea Island : Le coton Sea Island est réputé pour son extrême douceur et sa fibre soyeuse. Les chaussettes mi-bas homme en coton Sea Island sont exceptionnellement fines, duveteuses, toucher renforcé par leur absence de côte.
Les chaussettes mi-bas homme en lin : Le lin est la matière idéale pour les saisons chaudes. Cette matière, très respirante et légère, évacue très bien l'humidité et ne vous tiendra pas chaud. Vos pieds et vos chaussures vous remercieront !
Les chaussettes mi-bas homme en voile de coton : Ces chaussettes hautes sont destinées aux personnes vivant dans les pays chauds. Ce sont les plus fines et légères : elles sont pratiquement transparentes.
Les chaussettes homme en laine : Ce sont les chaussettes homme hiver idéales. Elles sont particulièrement confortables et chaudes et les plus fines sont en laine mérinos 80%. Si vous préférez la robustesse, choisissez les modèles en laine super-solide. Vous pouvez également opter pour les chaussettes mélangées en laine et coton. Les mi-bas en laine et cachemire apportent quant à eux chaleur, douceur et finesse.
Les mi-bas en cachemire : Cette matière d'exception est utilisée seule ou mélangée à d'autres matières. Vous trouverez des chaussettes de luxe en cachemire et soie d'une grande douceur. Mélangé à la laine, le cachemire permet d'obtenir des chaussettes chaudes, épaisses et solides. Et les chaussettes les plus chaudes sont en cachemire épais ou en 100% cachemire.
Les chaussettes mi-bas homme en vigogne : Douceur, chaleur ou finesse. Les chaussettes de luxe homme en vigogne n'ont pas d'égal. Ces chaussettes montantes sont pratiquement les plus fines existantes, et les fibres de vigogne ont d'excellentes propriétés isolantes. La paire accessoire de luxe par excellence.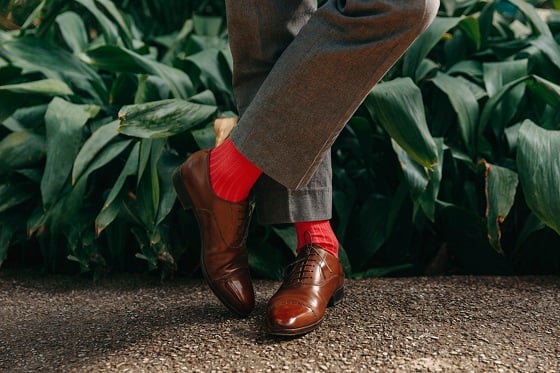 Les chaussettes longues homme en soie : La finesse et la douceur des chaussettes montantes en soie n'a pas d'égal. Légères et thermorégulantes, elles peuvent être portées autant en été qu'en hiver.
Les chaussettes mi-bas homme de contention : Ces chaussettes montantes sont des bas de contention de classe 2. Portés, ils favorisent la circulation sanguine. Ils sont excellents pour les personnes qui restent debout de façon prolongée pour prévenir les problèmes veineux. Nous avons choisi des motifs façon pied-de-poule pour la chaussette de contention afin d'en faire une pièce charismatique avec une touche de coquetterie !
# Comment porter des chaussettes hautes homme
Depuis nos débuts, nous avons toujours tenu à proposer une très large gamme de couleurs et motifs. Parcourez plus de 300 modèles et trouvez la paire de chaussettes de luxe idéale :
Les chaussettes mi-bas unis : nos mi-bas unis forment une large palette de couleurs, ce qui vous permettra de réaliser des associations variées avec vos tenues en toute sobriété. Nos modèles iconiques : les chaussettes vertes Académie chez Mazarin, les chaussettes rouges Gammarelli.
Les chaussettes mi-bas homme à rayures : Les chaussettes montantes rayées, ou vanisées, sont les chaussettes longues au motif le plus facile à porter. Les côtes colorées sont plus ou moins contrastées, et vous permettent d'oser une touche de couleur discrète et raffinée. Elles sont également réversibles : vous aurez deux paires de mi-bas en une, Classic with a twist !
Les chaussettes mi-bas homme au motif caviar : Le motif caviar est un motif discret qui révèle sa subtilité lorsqu'on y porte attentivement le regard. Les multiples associations de couleurs vous permettront de réhausser vos tenues sans exagération.
Les chaussettes mi-bas homme au motif pied-de-poule : Le motif pied-de-poule permet d'ajouter une légère touche de fantaisie à vos tenues avec élégance. Le contraste entre les couleurs est un peu plus visible qu'un motif caviar.
Les chaussettes au motif chevrons : Le motif chevrons est souvent très apprécié par les amateurs d'art sartorial. Sa régularité permet de mettre en valeur deux couleurs avec un contraste subtil sur les chaussettes montantes homme. Pour un rendu élégant et d'une grande finesse.
Les chaussettes mi-bas homme au motif losanges : Également appelé motif argyle, le motif losanges s'étend avec finesse sur toute la largeur de la chaussette haute homme. Cela permet d'apporter une touche régulière de couleur sur vos paires de chaussettes.
Les modèles à pois : Le motif pois est un classique. Il permet d'apporter un peu de couleurs contrastées en toute discrétion sur la chaussette haute pour homme.
Les mi-bas texturées : Cette catégorie regroupe trois motifs texturés : le motif écaille, nid d'abeille, et grenadine. Cela vous permet de tester un motif discret en relief sans nécessairement ajouter une couleur supplémentaire à vos chaussettes.
Les motifs paillettes : Ce modèle contient une part de fil de lurex, qui permet d'apporter un effet brillant pailleté. Idéal à porter en soirée pour ajouter une touche festive à vos tenues.
Parcourez notre collection de chaussettes mi-bas homme pour faire votre sélection !