Cashmere knee-high socks
Knee-high cashmere socks for men
Our selection of cashmere knee-high socks for men. Warm, soft and incredibly fine, these luxury men's socks are a must-have in any wardrobe.
Choose between 100% cashmere socks or a blend of cashmere and silk. Treat yourself to a pair of our cashmere knee-high socks, a must-have for any winter wardrobe.
Cashmere knee-high socks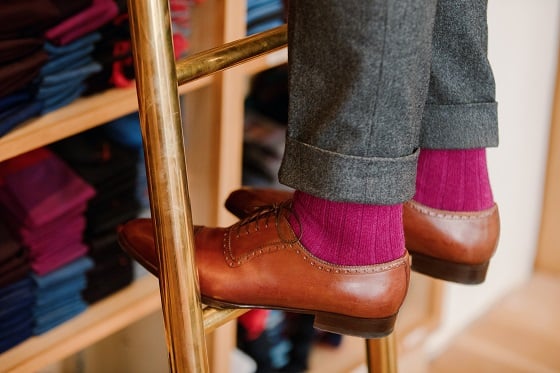 # The characteristics of high cashmere socks
Cashmere high socks are the warmest socks that exist (after vicuna of course). Why?
Because of their material: cashmere is a natural material (hair of cashmere goats) known for its thermal properties that isolate from the cold and for its softness. The high cashmere socks are therefore ideal to protect your feet from winter temperatures, both in the city and in the mountains;
and their height: these high socks are knee-high socks that arrive just below the knee. They cover the entire calf and are more insulating.
They are also the softest: cashmere is an animal material that comes from the hair of cashmere goats, which is as soft as down! The fibers obtained from these natural hairs keep this softness which is then found in your socks.
Fun fact: did you know that the first high cashmere socks that existed date back to the 14th century? Now you do! This pair was a gift from an Iranian poet to the King of Kashmir during a visit to the region of the same name.
# The origin of cashmere high socks
Contrary to popular belief, cashmere is not the name of the origin of the animal that provides the cashmere hair! The cashmere material takes its name from the region where the material is processed: Kashmir, or Kashmire, is located between India, China and Pakistan. It is in this region that the know-how in processing and knitting cashmere hair is the most ancestral.
The cashmere material is obtained from the undercoat of hair that Capra Hircus goats, now called cashmere goats, produce in winter to protect themselves from the cold. These animals are native to the high plateaus of the Himalayas where temperatures can reach -40°: their coat is therefore their only source of heat. We understand better the thermal and insulating properties of cashmere!
N.B.: When we say undercoat, we mean fineness: the cashmere hairs used to knit the fiber are extremely fine. It is this fineness that gives the material its quality. You can tell a good cashmere sock by the fineness of the fiber used and its length. Indeed, the longer the fibers used for knitting, the stronger they are.
Fun fact: it is thanks to two Frenchmen that the first cashmere products were created in Europe in the 19th century! Seduced by this sublime material discovered during a trip to Asia, Jean-Baptiste Decrétot and Guillaume Louis Terneaux decided to bring cashmere back to France and Europe to knit it and make a business out of it. As a 100% French brand, we can only be proud of these origins!
# The ranges of high cashmere socks
There are several ranges of high cashmere socks. At Mes Chaussettes Rouges, the cashmere knee-high socks are declined in 4 different ranges according to their composition (cashmere alone or mixed) and their properties and uses.
100% cashmere high socks: these socks are the warmest of all our cashmere high socks ranges. Their composition in 100% natural allows to accentuate the natural insulating effects of cashmere. They are also very soft. This Bresciani range exists only in 4 colors.
The 85% cashmere knee-high socks: By far the thickest socks we offer, these high cashmere socks are soft, fluffy and warm like no other socks. They are ideal to wear in the countryside, mountains, after ski or even at home for a cocooning effect.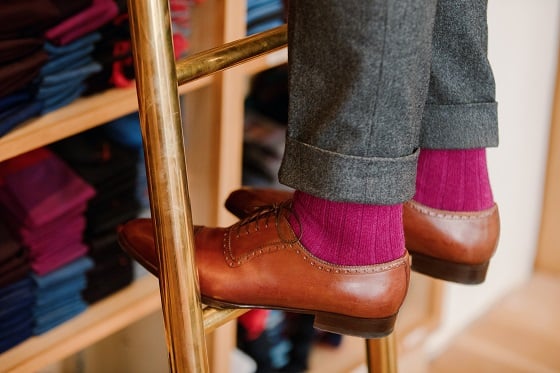 Thecashmere & wool socks Cashmere is a wool, merino wool is another. The combination of these two insulating wools allows to obtain particularly warm high socks (knee-high). They have a very good support on the leg and are of an intermediate thickness ideal for city shoes (boots, sneakers). The little extra? The absence of ribs in these socks makes them even softer to wear.
Thecashmere & silk socks The combination of silk and cashmere allows to obtain extremely soft and fine socks with a silky aspect and a fluffy touch. These socks are unmatched in terms of comfort, warmth and softness for people looking for thin socks in winter!
And if you hesitate, discover our boxes of 3 cashmere socks or 5 cashmere mixed socks!
N.B: a cashmere goat alone produces only 150 g of material, which explains why cashmere is quite rare... and expensive. Mixing cashmere with other materials allows to combine the advantages of this material and also to make the products sometimes more accessible.
# Maintenance: high cashmere socks are also machine washable
Cashmere is a rare material and, like all natural materials, quite delicate.
But first, you should know that, unlike delicate materials that like to be washed dry, cashmere likes water. And the more you wash it in contact with water, the more your high cashmere socks will look like new. This is because cashmere fibers shrink in contact with water and return to their natural shape as they dry.
Here are our tips for the care of your cashmere socks:
Machine wash: choose a wool or other very delicate regime, preferably cold and with a maximum spin speed of 600 rpm;
By hand: immerse the socks in cold to warm water with a little detergent, gently knead your socks so that the fibers shrink naturally without deforming;
Drying: the socks must be dried in the open air, lying flat so that the pairs regain their initial shape - no tumble dryer allowed!