Men's cashmere socks
Cashmere Socks for men
Our range of luxury men's cashmere socks.

Choose between cosy 100% cashmere socks or try our cashmere blend socks; the perfect blend of cashmere and silk - in
knee-high socks
socks.
Light, sumptuously soft and up to three times more insulating than wool, our cashmere socks are must-haves for any
winter wardrobe
. The perfect socks for wearing around the house; working from home never felt so good.
Chaussettes cachemire homme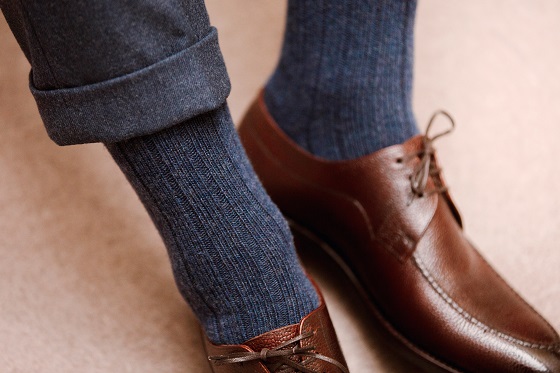 # L'origine des chaussettes cachemire homme
Les chaussettes cachemire homme nous viennent de loin ! Le cachemire est une matière en provenance de la région du Cachemire ou Kashmir, une région montagneuse enclavée entre l'Inde, le Pakistan et la Chine. Cette région est réputée pour son activité de tissage de la laine de cachemire provenant des poils des chèvres cachemire. Contrairement aux idées reçues, les chèvres cachemire ne viennent pas de la région du même nom : elles peuplent les hauts plateaux de l'Himalaya. Et qui dit montagne dit température froide ! Ainsi, pour se protéger du froid en hiver, les chèvres cachemire produisent naturellement une épaisse sous-couche de pelage supplémentaire. La matière cachemire s'obtient donc à partir de cette épaisse toison tondue au début du printemps. Les fins poils des chèvres cachemire sont récupérés puis tissés pour en faire de la laine de cachemire, utilisée ensuite pour le tricotage des chaussettes cachemire homme.
N.B : la qualité des chaussettes cachemire homme ne se résume pas au nombre de fils de cachemire dont elles sont composées mais plutôt à la finesse et à la longueur des fils de cachemire avec lesquels elles sont tricotées : plus les fils de cachemire sont fins et longs et plus la chaussette homme cachemire est de bonne qualité et résistante.
# Comment choisir ses chaussettes en cachemire homme
Les chaussettes en cachemire homme sont sans aucun doute les chaussettes les plus désirées en hiver. Pourquoi ? Parce qu'elles sont réputées pour leur douceur, épaisseur et chaleur ! Le cachemire est une matière haut de gamme. Un tissu rare et noble, convoité pour ses nombreux bienfaits : confortable, léger, hypoallergénique, extrêmement doux et bien chaud. Une matière précieuse parfaite pour des chaussettes d'hiver ! Leur petit plus ? Les chaussettes en cachemire laissent les pieds respirer grâce aux capacités thermorégulatrices du cachemire. Des chaussettes élégantes pour homme qui réhaussent le style pour un look tendance et affirmé.
Chez Mes chaussettes Rouges, les chaussettes homme cachemire sont les paires de chaussettes les plus prestigieuses que nous proposons (après la vigogne évidemment). Notre sélection de cachemire est d'ailleurs parmi la plus étoffée et prestigieuse du marché.
Découvrez notre collection de chaussettes cachemire homme. Des modèles de paire de chaussettes en cachemire variés : chaussettes unies, chaussettes colorées, chaussettes hautes, chaussettes basses, chaussettes noires...
N.B : La marque Mazarin distingue ses modèles de chaussettes en cachemire homme des chaussettes cachemire femme par la couleur du liseret situé en haut des chaussettes, signature de Mazarin. Une chaussette cachemire homme aura donc un liseret vert (pour les pointures du 40 au 45). Et pour vous mesdames, le liseret sera doré !
Les différents types de chaussettes cachemire homme
Nous proposons 4 gammes différentes de chaussettes en cachemire pour homme :
Les chaussettes 100% cachemire : ces chaussettes Bresciani sont idéales pour les amoureux des matières 100% naturelles. Elles sont très douces mais pas les plus épaisses ;
Les chaussettes 80% cachemire : elles sont de loin les chaussettes les plus épaisses et chaudes que nous proposons, idéales si vous recherchez confort et ressenti moelleux dans vos chaussures d'hiver. Ces chaussettes font des après-ski parfaits ;
La gamme en cachemire et laine : ces chaussettes sont d'une épaisseur intermédiaire, sans côtes, elles sont très flexibles et épouseront parfaitement la forme de vos jambes. Les capacités isolantes de la laine mélangée avec le cachemire en font des chaussettes particulièrement chaudes ;
Les paires de chaussettes en cachemire et soie : ce sont sans aucun doute les chaussettes les plus chaudes et douces qui existent ! Aux propriétés du cachemire vous pouvez ajouter les capacités thermorégulatrices de la soie, qui gardent notamment les pieds au chaud en hiver, son aspect soyeux qui rend les chaussettes plus brillantes, et la finesse et la légèreté de la soie. Sautez le pas si vous souhaitez garder vos pieds au chaud dans des chaussettes d'une douceur exceptionnelles et fines sans vous sentir trop à l'étroit dans vos chaussures.
Originellement, les poils de cachemire n'existent qu'en trois couleurs naturelles : le blanc, le marron et le gris. Pour obtenir notre somptueuse palette d'une trentaine de couleurs de chaussettes, nous procédons à la teinture des fibres de nos chaussettes. Toutes nos teintures sont réalisées dans nos ateliers de production situés dans le nord de l'Italie, une région réputée pour son savoir-faire traditionnel en matière de tricotage. Les techniques de coloration de nos chaussettes sont certifiées OEKO-TEX Standard 100 Class 1 ce qui garantit des pratiques de fabrication éco-responsables.
# Entretenir ses chaussettes en cachemire homme
Même si vous avez probablement déjà eu de mauvaises expériences en lavant du cachemire en machine, sachez que le cachemire aime l'eau et les chaussettes aussi ! C'est donc au contact de l'eau, et non à sec, que vos chaussettes en cachemire seront les plus belles : les fibres de cachemire se contractent au contact de l'eau ce qui leur redonne une forme naturelle, comme neuve, une fois sèches.
Messieurs, si vous voulez garder la douceur et l'épaisseur de vos chaussettes en cachemire sur la durée, voici comment les entretenir :
Les plus frileux les laveront à la main de peur de commettre une bêtise : dans ce cas, privilégiez l'eau froide ou tiède et malaxer bien les chaussettes de façon régulière pour ne pas les déformer ;
Plus simplement, lavez-vos chaussettes en cachemire pour homme en machine en respectant ces conditions. Le cachemire n'aime que l'eau froide et il aime être essoré avec douceur : l'idéal est donc de choisir un programme laine à froid avec un essorage à 400 ou 600 tours maximum pour bien conserver les fibres du cachemire ;
Pour le séchage, le sèche-linge est évidemment à bannir : le séchage de vos chaussettes en cachemire doit se faire à plat pour laisser les fibres de cachemire reprendre leur forme naturelle.
# Fun facts sur les chaussettes en cachemire pour homme
Chez Mes Chaussettes Rouges, nous nous sentons encore plus légitimes à fabriquer des chaussettes en cachemire en tant que marque française depuis que nous savons que cette matière a été importée en France et en Europe au XIXème siècle par deux français nommés Jean-Baptiste Decrétot et Guillaume Louis Ternaux.
Et en plus de cela, l'un des premiers habits qui fut fabriqués en fibres de cachemire était... des chaussettes ! Les premières chaussettes en cachemire homme avaient été offertes par un persan au roi du Cachemire au XIVème siècle.