Doré Doré
Doré Doré
Discover our range of Doré Doré knee-high socks, including the iconic Aventure rage in wool and argyle patterned pairs.
Doré Doré is a French brand whose socks are knitted in Italy.
Doré Doré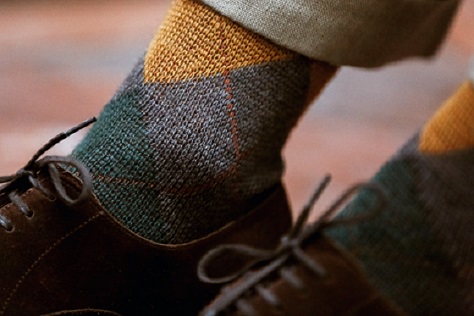 # La marque Doré Doré
Doré Doré est l'une des plus vieilles marques de chaussettes françaises. Fondée en 1819, cette maison est hautement réputée pour la qualité de ses modèles innovants et contemporains fabriqués en Italie. La marque Doré Doré fait partie du patrimoine français : même les mémoires du Général de Gaulle racontent que sa femme faisait toujours une halte à Troyes chez Doré Doré lorsqu'elle se rendait sur son lieu de vacances !
# La spécialité de la marque Doré Doré
Doré Doré innove constamment pour assurer la meilleure adéquation entre matière première et usage de ses chaussettes. C'est d'ailleurs à Doré Doré que nous devons l'invention des chaussettes invisibles. Les modèles phare Doré Doré ? Les chaussettes en laine au traditionnel motif argyle ou encore le modèle "aventure" pour vos week-ends hivernaux.
# Pourquoi porter des chaussettes Doré Doré ?
Les chaussettes Doré Doré sont des incontournables du haut de gamme pour leur diversité, le prestige de leurs matières et l'étendue des gammes proposées (hommes, femmes, enfants). Testées une fois, sur vos pieds pour toujours !